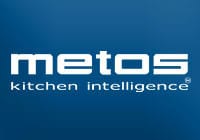 Use the tabs on the left for more detailed information on our most popular products.
Metos has rebranded its product and manufacturing range from 2016.
The internationally renowned brand:-


is now incorporated into the Metos Manufacturing family, which provides high quality professional kitchen equipment, designed especially for the Northern-European food production culture.
Metos is the largest Scandinavian manufacturer in cooking equipment. Metos production facilities are located in Finland (in Kerava and Sorsakoski) and in Tallinn, Estonia. The  headquarters are in Kerava, Finland.
The product range has been developed during the years to serve especially the needs of the demanding Northern-European professional kitchens and emerging global markets.
Combi kettles are among the most versatile items of modern kitchen equipment. Here is a shortlist of the main features of the Metos range.
.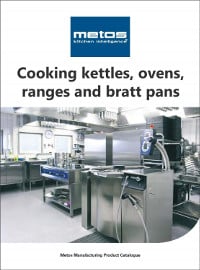 Chefs can focus entirely on cooking, rather than moving pots, pans and opening oven doors.
Temperature control is precise and easy.
'BurnPrevent Control' ensures food does not overcook, providing better quality and easier cleaning. Even proving dough is safe and easy.
Cook and hold programmes ensure food is ready when you are.
Fully automated kettles do not need user supervision once food is loaded.
Electric tilting makes it safe to pour food.
Thermal insulation cuts heat loss and increases safety.
Energy is also saved because full power is only used when needed; otherwise power reduces to suit the cooking programme.
A variety of mixing options ensure all kinds of food, cold and warm, are mixed effortlessly and efficiently.
Collecting HACCP can be automatic during the whole process.
Optional cooling is operated by tap or iced water. Food is prepared from start to finish in the kettle – it cooks, mixes and cools.
Metos beats all existing chilling norms. With its 'SmartIce' system using liquid, pumpable ice for example, 200 litres of goulash can be taken from +98°C to +3°C in about 45 minutes!
BGL Rieber has supplied and installed kettles to schools, universities, hospitals, CPUs, prisons and food producers.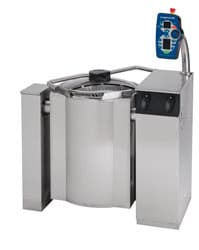 Proveno Combi Kettles: The Proveno Combi Kettle cooks, mixes and cools almost any kind of food. You can prepare up to 70% of all items in your menu with Proveno combi-kettle. The assortment comprises five models to choose from according to your needs. A wide range of options and accessories allows you to enhance the combi kettle of your choice.
Training and product support are provided by BGL Rieber.
Key features include: –
99 User Defined Programs.
USB Port Easily Accessed For Software and Recipe Updates.
Automatic control.
Multiple Integrated Cooling Solutions.
Wireless HACCP.
Raised And Contoured Panel for Ergonomics.
Large, Easy to Read Display.
BROCHURE: Metos Proveno
Visit the product website: Proveno
Watch the movie: Proveno, brought to you by Hackman Films, in conjunction with Metos Media Entertainment: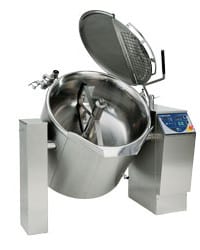 Culino Combi and Cooking Kettles: The range of Culino Combi and Culino Cooking Kettles, with or without integrated bottom mixer, present a solid and safe production solution for every professional kitchen. Integrated bottom mixer and electric tilting are just a few of the many features that lighten the routine work and manual labour of many kitchens.
Brochure: Metos Culino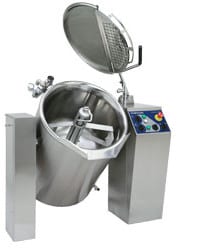 Viking Combi and Cooking Kettles: The range of Viking Combi and Viking Cooking Kettles, with or without integrated bottom mixer, are an efficient and user friendly basic kettle for almost all types of professional kitchens. Thanks to the large steam jacket, that extends to the kettle's upper rim, soups, sauces and many other products will be cooked faster. Electrical tilting makes unloading easy. Viking kettles can be installed in line without support pillar in the middle which saves space in a kitchen.
Brochure: Metos Viking
Metos Marvel Pressure Steamer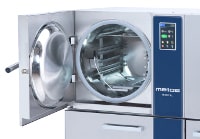 The new Metos Marvel range of high capacity pressure steamers are available in single E1 -­ 4 x 1/1 GN (65mm deep) and double chamber E2 ­- 8 x 1/1 GN versions. The Marvel operates up to a maximum of 120degC (1 bar pressure), reducing cooking times by up to 5 times faster than conventional cooking and twice as fast as a combi oven. Both models are compactly designed, giving the user high output in a minimal space.
Cooking in both chambers at once is a noticeable upgrade on the E2 8GN model. The heads up display offers simple touch screen control which can be customised to the user's specific requirements.
A choice of 12 active alarms notify the chef of finished cooking stages and colour coded zones on the display give the user visual identification of pre-loading, cooking and de-pressurisation stages of the cooking process. The Marvel also has automated cleaning, maintenance reminders and treatment programmes to protect the heating elements (on the electric version).
Brochure: Metos Marvel
Bratt pans: Metos produces heavy duty, highly reliable bratt pans from 30 litre capacity up to 200 litres, providing some of the largest bratt pans available on the market. The bratt pan ranges include the large capacity Futura HD heavy-duty, for serious food production, the Futura range and Prince pedestal mounted range.
Brochure: Metos Bratt Pans
VIDEOS
Hackman Films, in conjunction with Metos Media Entertainment has produced a number of useful videos on the use of its equipment.  View the videos on YouTube here.
Here is a video on the Finnish school meals system, based on the kettles: