Use the tabs on the left for more detailed information on our most popular products.
Rieber food serving and distribution equipment is used throughout the world, in healthcare, B&I, social care, prisons, education, armed forces and even night clubs – the uses are endless. Contact us for a current list of reference sites.
Rieber equipment and the back up and support from BGL Rieber is highly regarded: Find out more from our customers in the Newsroom.
Banquet Trolleys: The Rieber range of banquet trolleys is a worldwide market leader. 
Rieber Banquet Trolleys offer exceptional build quality combined with a host of added-value features: –
Unlike many competitive models, Rieber Hot Banquet Trolleys feature an adjustable humidity option which is essential for keeping meals moist and succulent.
Hot and refrigerated trolleys are available, each featuring a high quality stainless steel carcass, double wall insulation and seamless easy-clean deep-drawn shelf rails for maximum hygiene and ease of use.
Single and double door models are available, with the two door model featuring up to 180 plate capacity.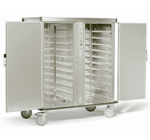 Temperature regulation is via a simple digital control system, providing a range of temperatures: –
• Hot from +30 degC to +100 degC (+80 degC achieved in only 30 minutes)
• Cold -12 degC to +8 degC
All units feature digital thermostatic control with memory storage, tilt shelf protection, door opening to 270 and 180 degrees. Fully GN compatible, Rieber Banquet Trolleys also feature all-round bumper protection and recessed pushing handles, for comfort, safety and to maximise use of space.
Accessories include stainless steel plate carriers and covers. A two-speed electrically driven motor is also optionally available, featuring additional twist handles mounted on both sides for steering.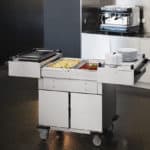 Bulk Food Trolleys: Stainless steel bulk food delivery carts are available heated or refrigerated. With accessories (top shelf light/heat and a fold-down shelf) the cart becomes a small serving station; importantly, the Norm model has been complimented for 'not being too tall' for smaller serving staff.
Rieber's comprehensive product range combined with our extensive experience provides professional solutions for transporting plated and bulk meals.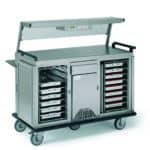 Regeneration Trolleys: Rieber offers intelligent food regeneration trolleys with optional active hot or cold food storage.  With separate heating or cooling controls for each compartment, fully automatic regeneration or cooling programmes are standard.
As always with these systems, units can be configured to specific requirements.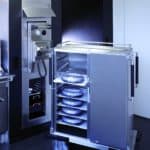 Tray Trolleys: When food is being distributed via a central kitchen, the right choice of tray system is essential. Rieber offers a vast choice: Combitrays and Thermotrays for passive hot or cold holding; or tray systems for induction or heated air for active hot or cold holding. Again, these systems can be configured to specific requirements, for example, to include 'super heavy duty' bumpers or wheels to overcome poor road surfaces etc.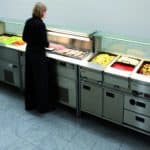 Varithekbuffet: Varithekbuffet offers diners a special culinary experience. The cooking module, modules for keeping food warm and chilled, a neutral module, a cash till module and a corner module can be combined freely depending on space and specific requirements.
Varithek Buffet incorporates the key features of Rieber's servery solutions including a variety of cooking, holding and serving options. The system can build into virtually any size or shape of servery, with the added bonus of optional mobility.
The system can also be customised to suit individual décor using coloured panelling.
Mobile Units: These little kitchen helpers include Rack Trolleys available in various sizes and versions, suitable for Gastronorm and Euronorm.
Cutlery and Tray Trolleys come with cutlery inserts and tray shelf.
Rieber Transport Trolleys are renowned for their durability, available in stainless steel and plastic versions.
Tubular, Exchange and Platform Dispensers include a choice of models for dispensing plates, bowls, crockery, cutlery and porcelain.
Delivery trolleys for internal transport and meal distribution are available in stainless steel and in various sizes.
Serving trolleys are remarkably robust and long lasting.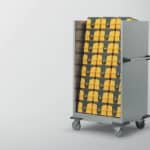 Rolli Trolleys are perfect for storing and moving numbers of Thermoport boxes.
Meal Make-Up Conveyors: Food distribution conveyors and clearing belt conveyors from Rieber are part and parcel of a professional kitchen where the demand placed on this type of system is particularly stringent. Conveyors come in two different versions; as belt conveyors or circular twin cord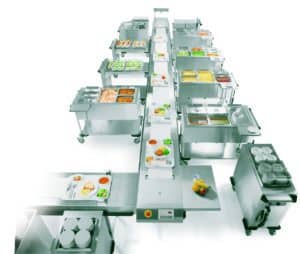 conveyors. Conveyors feature a dirt stripper as standard, circular twin cord belt conveyors come with an optional discharge trough for simple cleaning. Sliding tables offer a low cost alternative for smaller operations.
FURTHER INFORMATION: The range of Rieber products is large and varied, with new additions to our ranges, which could help you, being introduced regularly. If you would like some straightforward advice on which product is best for your needs, or to find other caterers using our systems, please Contact us.