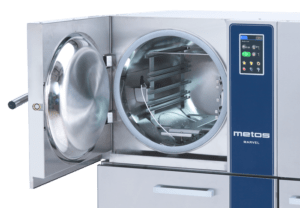 BGL Rieber is introducing the new Marvel range of pressure steamers from Finnish manufacturer Metos.
The Marvel E1 4GN single chamber model measures 800w x 805d x 1520h.
The E2 8GN double chamber model is 1385w x 805d x 1520h. Both are compactly designed, giving the user high capacity output in a minimal space.
Cooking in both chambers at once is a noticeable upgrade on the E2 8GN model. Each chamber can also operate separately.
The heads up display offers simple touch screen control which can be customised to the user's specific requirements.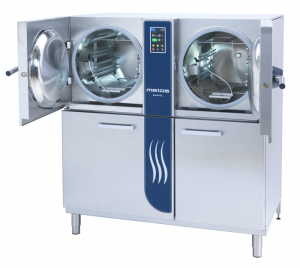 A choice of 12 active alarms notify the chef of finished cooking stages and colour coded zones on the display give the user visual identification of pre-loading, cooking and de-pressurisation stages of the cooking process.
The Marvel operates up to a maximum of 120degC (1 bar pressure), reducing cooking times by up to 5 times faster than conventional cooking.
The Marvel also has automated cleaning, maintenance reminders and treatment programmes to protect the heating elements (on the electric version).
Metos continues to offer both floor models in electric and direct steam.
With Metos Marvel you can defrost, reheat and cook food. Gentle steam cooking retains the texture, nutrients and colour of the products.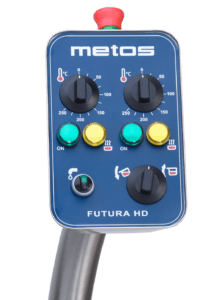 The Metos Marvel is useful in situations where the amount of food needed changes rapidly and unexpectedly. Additional portions can be prepared for service quickly, as the chamber needs no preheating and dishes can be cooked simultaneously without flavour transfer.