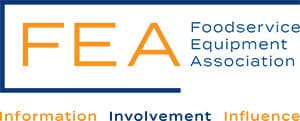 Food Equipment Association (was CESA) is the authoritative voice of the catering equipment industry and we are proud to be a member and support the invaluable work of the association.
The FEA represents more than 170 companies that manufacture, install and service commercial kitchen equipment in the UK.
Its work includes advising legislators, lobbying regulators and informing members and operators about the latest and future changes that affect our industry, which is invaluable to us as a manufacturer, ensuring we are always proactive in our approach to products and customer requirements, both today and for the future.
Its CFSP training initiative is raising professionalism throughout the foodservice industry.