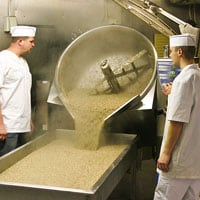 Whether your manufacturing production operation is large, medium or small, or even on an industrial scale, Metos has a wide selection of products such as combi kettles, bratt pans and steamers that can help boost your productivity safely and with the utmost hygiene.
COMBI KETTLES
Bulk combi kettles produce a variety of foods using the minimum of space and labour. The latest generation 'combi' kettles cook, mix and can cool almost any kind of food. 'BurnPrevent Control' ensures food does not overcook, providing better quality and easier cleaning.
Kettles with mixer attachments can be used cold, to make sauce bases, bread and cake mixes, beaten eggs for omelettes, whipped egg white for meringues. Warmed up, kettles can prove the dough mix and cook out the sauce mixes.
Used hot, kettles produce boiled vegetables, soups, porridge, stews, curries, boiled, par-boiled and creamed potatoes, carrots, cabbage, custard, rice pudding, sauces, roux (especially bechamel), stocks, as well as desserts, flap-jacks, jams, chutneys, custards; there is very little that in fact cannot be produced in a Metos combi kettle.
Kettles ensure optimal energy usage because the energy consumed is directed ONLY into the food being cooked inside the kettle. The latest generation of Proveno kettles include multifunction touchscreen control panels, providing real-time cooking data.
Capacities: 40-400 litres
BRATT PANS
Metos heavy duty bratt pans are designed for industrial use with maximum economy as well as ease of use.
New Futura HD models feature a double walled, insulated, counter balanced lid with built in water tap and motorized tilting to 90°.
Pans have capacities of 100, 150 and 200L and operate in cooking and frying modes – featuring single or twin frying zones, which can achieve up to 250°C.