COVID-19
Our mission now more than ever, is to provide you and your patients better food, safely, wherever they are… read our Focus on Emergency Feeding Newsletter and Focus on Protect and Serve Newsletter, helping you to feed the sick and the vulnerable.
---
BGL Rieber is a key supplier to UK hospitals.
Recommended Products:
Thermoport l Front Cooking l K-Pot l Serving & Distribution l Mobile Devices l Multipolar l Metos Combi Kettles l Rational Production
We have extensive experience of working with hospital caterers for the supply of everything from foodservice trolleys, integrated food transport systems, front cooking stations and large combi kettles.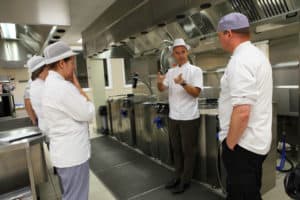 All this equipment is fully supported with training and technical support and over 35 years experience of working in this key public sector.
We value our good relationships with the highly professional catering management and are pleased to assist in providing safe and secure food transportation and production systems to assist with the health and well being of patients and staff in this invaluable public service.
Take a look at our NEWS section to find out more about what we do and how we do it.
BGL Rieber offers a 'longer term' view of customer relations and we take great pride in providing the highest levels of customer service, including committed, specialist support for the public sector, where buyers increasingly require sophisticated and detailed comparative data to ensure they are achieving best performance and value for money.
We work in partnership with government purchasing bodies for the supply of food transportation, distribution, regeneration, prime cooking equipment and much more!
Our newsletters give the customer's view on our products and service. Find out more HERE.