Serving & Distribution
Use the tabs on the left for more detailed information on our most popular products.
Rieber food serving and distribution equipment is used throughout the world, in healthcare, B&I, social care, prisons, education, armed forces and even night clubs.
Contact us for a current list of reference sites.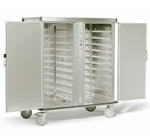 Banquet Trolleys The Rieber range of banquet trolleys is a worldwide market leader, offering exceptional build quality combined with a host of added-value features.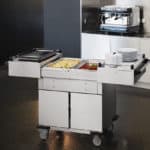 Bulk Food Trolleys Stainless steel bulk food delivery carts are available heated or refrigerated. With accessories (top shelf light/heat and a fold-down shelf) the cart becomes a small serving station. NOTE: the Norm model has been complimented for 'not being too tall' for smaller serving staff.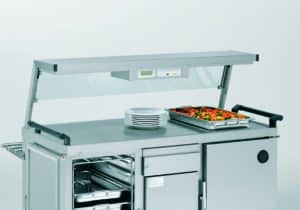 Regeneration Trolleys Rieber offers intelligent food regeneration trolleys with optional active hot or cold food storage.
Tray Trolleys  Rieber offers Combitrays and Thermotrays for passive hot or cold holding; or tray systems for induction or heated air for active hot or cold holding.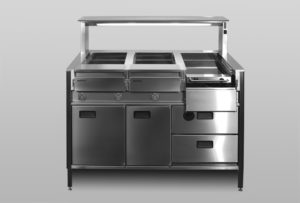 Varithekbuffet Incorporating self-ventilation, cooking, holding and serving options, the  system can build into virtually any size or shape, with the added bonus of optional mobility. Self-ventilation means it can be used front or back of house without a traditional overhead canopy.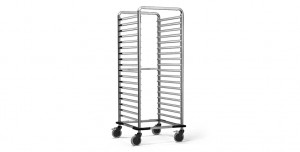 Mobile Units These little kitchen helpers include Rack Trolleys available in various sizes and versions.
Rieber Transport Trolleys are renowned for their durability, available in stainless steel and plastic versions
Cutlery and Tray Trolleys
Dispensers include a choice of models for dispensing plates, bowls, crockery, cutlery and porcelain
Rolli Trolleys are perfect for storing and moving numbers of Thermoport boxes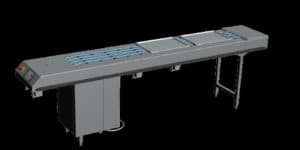 Meal Make-Up Conveyors Food distribution conveyors and clearing belt conveyors from Rieber include the latest 'quad' four belt model.
View our Focus on Meal Conveyors Newsletter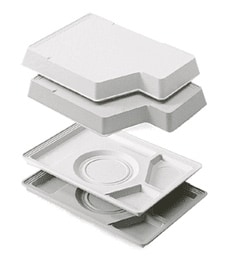 Thermotrays Ideal system for serving meals with a care home, hospital or prison. Can keep meals hot for up to 30 minutes.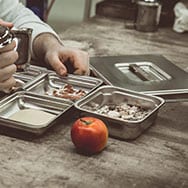 Individual Meal Trays Rieber's individual stainless steel meal tray.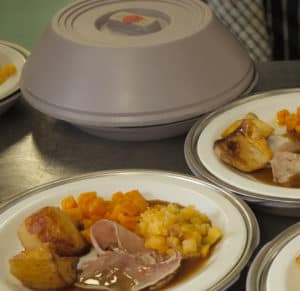 Ultra Heat Store Base System Designed to present fresh cooked plated meals from the kitchen, Rieber's Ultra Heat Store Base system will keep a meal hot without scorching.
Ask us about The robust quality of Rieber plate dispensers and why they cut the risk of smoke and fires.
FURTHER INFORMATION: The range of Rieber products is large and varied, with new additions to our ranges, which could help you, being introduced regularly. If you would like some straightforward advice on which product is best for your needs, or to find other caterers using our systems, please Contact us.