THINKING OUTSIDE OF THE BOX!
Use the tabs on the left for more detailed information on our most popular products.
Rieber is constantly inventing and improving its product range. Yes, Rieber employs 'boffins' to dream up new ideas, but, we are also very good at listening to what our customers and users have to say.
The innovation products on this page represent a combination of great design, thinking out of the box (with the help of the boffins) and using the feedback from our customers to improve what we do.
Thermoplates: To ensure consistency across the food chain, it makes sense to standardise on the GN format in everything we do.
Rieber's 'Thermoplate' is a new design of GN pan, made with outer layers of stainless steel for durability, but with a centre layer of the highly conductive aluminium, ideal for all forms of cooking and especially energy efficient induction.
When cooking, for example, Thermoplates heat up 10 times faster than stainless steel pans and also spread the heat more evenly. Thermoplates also conduct cold temperatures more efficiently.
Traditio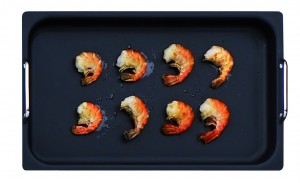 nal kitchen pans made from stainless steel or black iron are poor energy conductors. Rieber's solution means less energy is required overall to heat, chill and transport food.
With Thermoplates food can be prepared, cooked, chilled, stored and served using a single GN pan, also saving on the energy required throughout the process and also on dishwashing energy – as less pans need washing.
Thermoplates are available in GN sizes: 1/1, 2/3, 1/2 and 1/3 and in nano stainless steel or highly durable non-stick finish. Thermoplates are also very good looking; the range includes smart stainless steel covers – great for front of house service.
Rieber is the one of the world's largest manufacturer of GN pans. Download the brochure or Contact us for further information.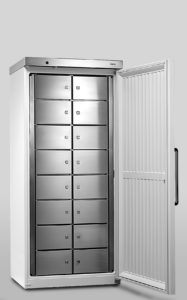 Multipolar: Rieber's GN sized refrigeration systems maximise the use of internal space. Multipolar refrigeration is cleverly designed for communal use, in universities, colleges, prisons and care homes.
'Multipolar' undercounter and cabinet compartmentalized refrigerators offers from four to 16 lockable compartments within an impact and shock resistant outer cabinet.
The outer cabinet is manufactured from powder-coated galvanized sheet steel with inner compartments featuring a raised lip to help contain spillages. Compartment doors are made from stainless steel and lined with the fruit juice and acid resistant polystyrol.
The Multipolar range is based on a range of cabinet sizes from undercounter units housing 4 or 6 compartments, which can be built underneath worktops, to a Slimline 360 litre unit, 8-14 compartments, full size 500 litre model (8 to 12 compartments) and an extra-large 570 litre cabinet, which features 16 compartments. Each compartment comes with its own unique lock and two keys.
The energy-saving and powerful cold compressor produces very little noise or vibration thanks to a special bearing application. Automatic defrost and water evaporation also features. Read news on Multipolar users in the Public Sector section of NEWS.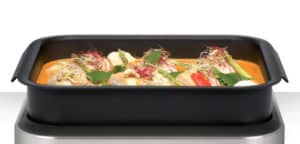 K-POT: An amazing product, K-Pot transforms the service of food; it replaces traditional serveries and chafing dishes and introduces a new, sustainable approach to creating food serveries and counters.
Buffets and satellite food service is transformed by K-Pot – download the brochure from our brochures section.
Read the story about how K-Pot helped feed guests at the World Cup: WORLD CUP GLORY FOR K-POT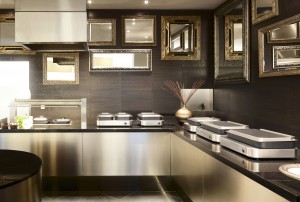 Rieber's multipurpose K-Pot provides multiple heating and serving options. It can regenerate chilled or frozen meals, as well as griddle, boil or fry. Cold holding variants are also available.
It also saves energy and improves sustainability for the caterer – and it saves the cost of using gel heaters! No carbon monoxide is generated using K-Pot and there is no risk of fire, as with smelly gel heaters. Risk assessment is also much easier. One university caterer likes Rieber's K-Pot so much, he bought 20! The university stated they could save over £5000 a year on gels alone.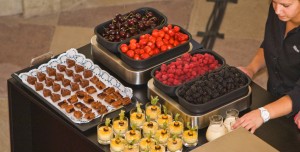 For contract and event caterers, a K-Pot 'kitchen' – all you need to entertain up to 60 people including K-Pots and service countering – fits onto a single europallet for easy transportation. How smart is that!
FURTHER INFORMATION: 
Innovation and the full range of Rieber products is large and varied, with new additions to our ranges, which could help you, being introduced regularly. If you would like some straightforward advice on which product is best for your needs, or to find other caterers using our systems, please Contact us.