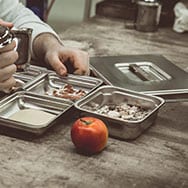 Rieber's individual meal tray offers the ideal, robust, fast, efficient and high quality meal delivery system for hot,
cold and ambient meals.
The tray is made from 1mm stainless steel, with lid, providing the highest level of hygiene and strength.
1.25l filling volume and with three compartments, the meal tray is compatible with all Thermoport food transport systems.