This section provides an overview of Rieber. More information on specific Rieber products is available via the tabs on the left, with detailed introductions in these sections: Front Cooking, Food Transport, Serving & Distribution and Innovation.
Rieber GmbH & Co. KG, headquartered in Reutlingen, is the leading innovator and manufacturer of kitchen solutions both for professional caterers and for private use at home.
Rieber employs around 600 staff at four production sites in Reutlingen and Trebbin. Daughter companies are based in Austria, Switzerland, Benelux and in the UK, Rieber is represented by BGL Rieber.
Rieber puts humans and food at the focus of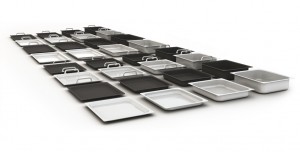 our products & solutions, as well as the responsible use of limited resources such as energy, water and time. In this way, we achieve both high efficiency when it comes to cooking & serving as well as low overheads and high environmental compatibility.
Rieber is a leading global manufacturer of GN operating systems, including the revolutionary Thermoplate, a new design of GN pan, made with outer layers of stainless steel for durability, but with a centre layer of highly conductive aluminium.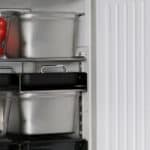 STORE: Rieber's GN sized refrigeration systems maximise the use of internal space. Mulitpolar refrigeration is cleverly designed for communal use, in universities, colleges, prisons, B&I and care homes.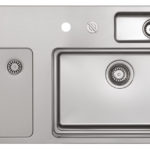 PREPARE: Fresh thinking innovation has introduced the Waterstation range of sinks, including the Waterstation Cubic, featuring multi-level GN-sized preparation areas in the basin, which save space and provides exceptional flexibility.
COOK: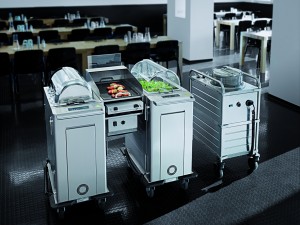 Rieber's cooking options are led by Varithek, the modular cooking modules which are revolutionising how kitchens and food-service areas are designed. Working independently incorporated into counters and serveries, or with Rieber's Air Clean System, Varithek offers highly space, labour and energy efficient cooking solutions.
By adding Rieber's Thermoport food transport and regeneration products to Varithek,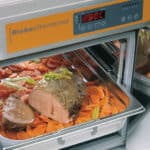 the system becomes the Hybrid Kitchen, a flexible, fully mobile method of transporting and cooking food in front of the customer.
More innovations from Rieber include the Thermomat, a specially developed "cook and hold" oven available  in two configurations – with doors or drawers. Read the News stories here or Contact us for a current list of reference sites.
EXTRACT: Rieber has not one, but three methods of extracting air from around the cooking area; down-draught,
push & pull and edge to edge. Each method suits different applications.
The patented air-cleaning-system® (acs®) extracts unpleasant cooking vapours, grease, unhealthy moisture and odours, protecting the customer and operator. The air is suctioned off and cleaned of grease and odours as they pass through the filter components, either Zeolite, active carbon and O3, housed in the main body of the unit. Each component of the air cleaning system can be easily washed by hand or in the dishwasher.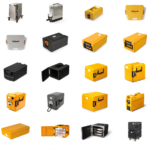 TRANSPORT: Rieber offers a huge range of stainless steel and plastic Thermoport food transport options for delivering hot, chilled and ambient food products in top condition. Read the News stories here or Contact us for a current list of reference sites.
SERVING & DISTRIBUTION: Rieber food serving and distribution equipment is used throughout the UK and European healthcare sector. Read the News stories here or Contact us for a current list of reference sites.
Meal Make-Up Conveyors: Food distribution conveyors and clearing belt conveyors from Rieber are part and parcel of a professional kitchen where the demand placed on this type of system is particularly stringent. Conveyors come in two different versions; as belt conveyors or circular twin cord belt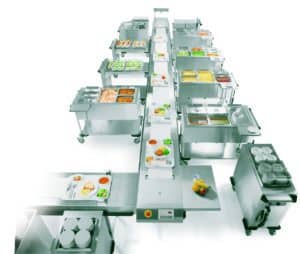 conveyors. Belt conveyors feature a dirt stripper as standard, twin cord circular belt conveyors come with an optional discharge trough for simple cleaning.

Rieber equipment and the back up and support from BGL Rieber is highly regarded: Find out more from our customers in the Newsroom.
MOBILE UNITS: These little kitchen helpers include Rack Trolleys available in various sizes and versions, suitable for Gastronorm and Euronorm.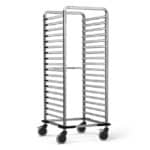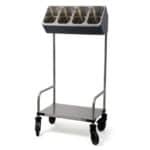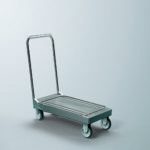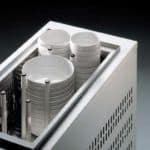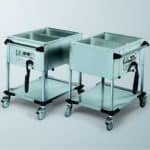 Cutlery and Tray Trolleys come with cutlery inserts and tray shelf.
Rieber Transport Trolleys are renowned for their durability, available in stainless steel and plastic versions.
Tubular, Exchange and Platform Dispensers include a choice of models for dispensing plates, bowls, crockery, cutlery and porcelain.
Delivery trolleys for internal transport and meal distribution are available in stainless steel and in various sizes.
Serving trolleys are remarkably robust and long lasting.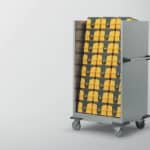 Rolli Trolleys are perfect for storing and moving numbers of Thermoport boxes.