BGL Rieber is introducing the °CHECK system which allows for the capture of HACCP-data digitally using a smartphone and temperature sensor or installed sensors.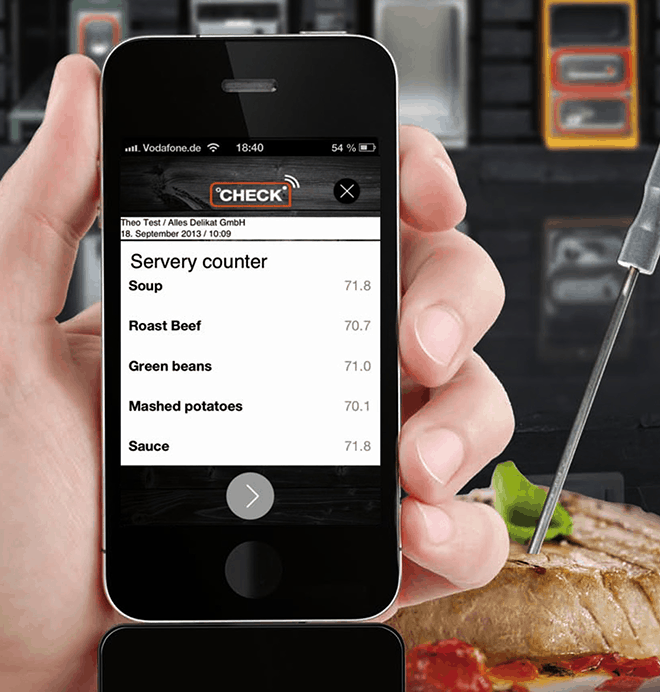 Once captured, the information is forwarded to a database. °CHECK is used for gaining a real-time overview of where food currently is located, recording its temperature as well as digitally capturing and documenting this data.
Time-consuming bits of paper everywhere will be a thing of the past.
"Our new °CHECK system offers a transparent and safe option for digitally documenting all of your HACCP data in real-time and retrieving it anytime and anywhere. This digitalisation will revolutionise food flow and contribute to the protection of resources," says
Max Maier, Owner of BGL Rieber's parent company, Rieber.
The system offers:
Temperature measuring with an easy-to-use wireless core temperature sensor
Real-time transfer of measuring data to a smartphone
Quality assurance on the basis of the adequate core temperature
In addition, °CHECK Auto offers:
Stationary real-time temperature measuring
Stationary monitoring with the capability of saving both costs and resources, helping to measure energy efficiency
Seamless logging of mobile equipment, such as food transport containers or hospital food trolleys.
The system allows for temperatures etc., to be checked and documented via web access, effectively allowing managers to check an entire building such as a hospital without having to move from the their desk!