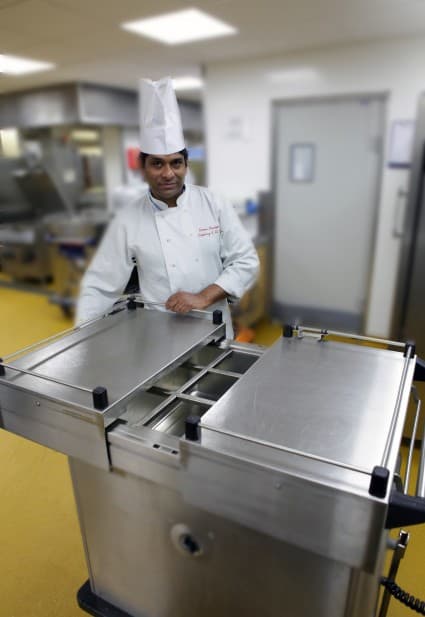 "They are reliable, keep the food at the right temperature when loaded properly and have proved good for the smaller wards especially.
"BGL Rieber also provided us with tailor-made inserts so we can use various size containers that fit snugly and don't slip about."
Salisbury District Hospital Catering Manager Paul Straughair has been impressed with his new Rieber Norm bulk foodservice trolleys, an example pictured here with Chef Oomen Cherian.
"I am always prepared to be on the defence and ready to go into battle when dealing with suppliers, because customer service tends to get lost. The service from BGL Rieber is attentive and fair, excellent in fact."
Norm food transport trolleys deliver food from the main kitchen to the ward. Salisbury has 560 beds and the kitchen serves around 1,500 meals daily.
Salisbury is a consistent winner of culinary awards, last year receiving the Hospital Caterers Association Team of the Year Award for the work they have done to create good nutritional food for patients and provide a good all round service for staff and visitors.