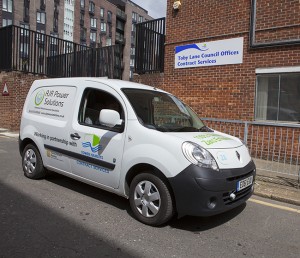 Tower Hamlets is the only London Borough providing a daily hot meals on wheels service for residents.
Delivering 350 meals a day, the service operates all year round, catering for vulnerable residents referred by the social care team.
Up to 50 meals are now being transported using a new electric powered vehicle which, "allows us to introduce a more environmentally friendly method of delivery," explains Michael Hales, Head of Contract Services, London Borough of Tower Hamlets.
Meals are cooked daily using fresh ingredients at the central production facility, Toby Lane, Mile End and delivered using conventional diesel vehicles. Unfortunately, the short distance and high number of stop/start meal drops does not suit the diesels, which suffer from increased maintenance costs, particularly to particulate filters that become blocked unless the vehicle is taken on a long run.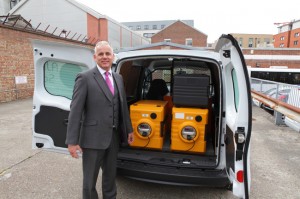 The new electric vehicle is under test as a suitable replacement. Vehicles are in use up to four hours daily, but can run for eight hours. Only 12-15 miles are covered in that time, but some 50 stops to deliver meals may be needed.
"The diesels were as good a solution as we could find at the time, but the electric vehicle is considerably better," continues Hales.
"The staff love the new vehicle and the electric solution promises to be considerably more efficient."
The team at Tower Hamlets are extremely proud of the quality of service they deliver to residents. Neighbouring Hackney Council is also a customer for its meals on wheels service.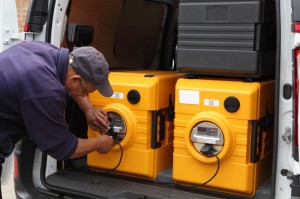 Two Rieber Thermoport 1000KB heated food transport boxes, plus a chilled 600K box were installed in the electric vehicle, in a package including the charging point, by commercial vehicle conversion specialist AJR Power Solutions. The heated boxes feature fan assisted elements and are set to maintain a temperature of 85degC. AJR researched the available plastic boxes and chose Rieber because these were the only boxes able to hold 85degC consistently.
Anita Selby, CPU and Delivered Meals Manager at Tower Hamlets added that EHO inspectors were, "Very happy with the new system. We have been using Rieber insulated boxes for over 20 years and are experienced in packing and handling them. Little training was needed with the new system and Rieber's Regional Sales Manager Paul Franks provides ongoing training support for new staff as we need it.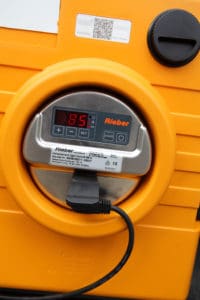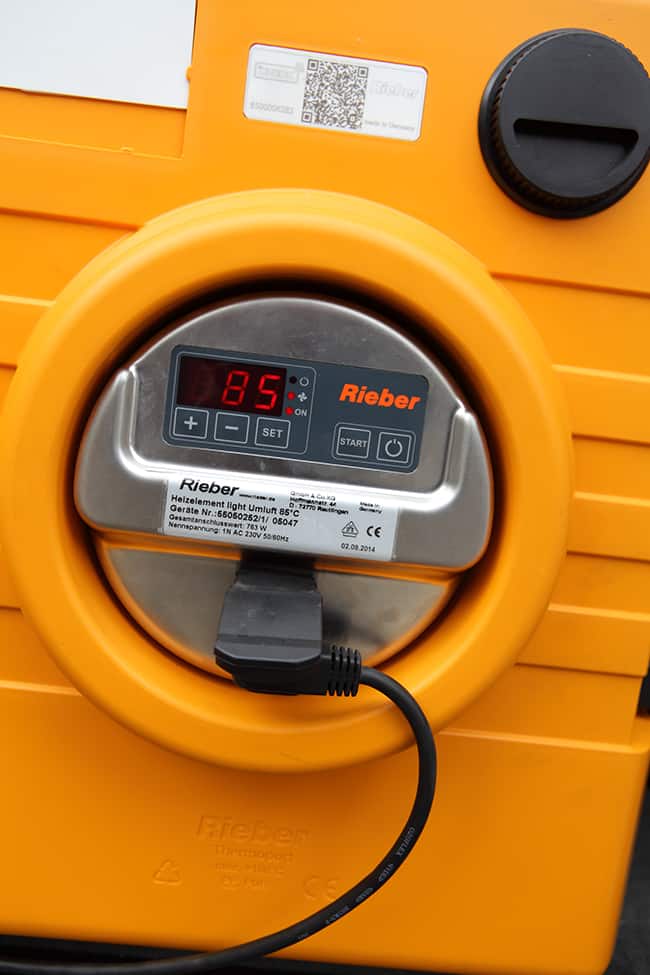 "The electric vehicle meals are checked for temperature as they go out and at the point of delivery, where they comfortably achieve the required 75degC."
• The central production kitchen at Toby Lane also produces around 1600 meals for local schools, delivered using Rieber's Thermoport 50 food transport boxes.
ELECTRIC RENAULT KANGOO
A Renault Kangoo electric van was suitable because of short travel involved for Tower Hamlets meals on wheels.
The system includes 'deep cycle' gel batteries charged overnight to power the Rieber boxes. But as the Rieber system consumes less than half the power stored on average, the vehicle could deliver meals for 2 days without charge.
AJR are electrical specialists and tailored the battery package to meet the power requirement of the Rieber boxes – and then added a safety margin.
Deep cycle batteries were selected by AJR to handle the extremes of use, from full charge to empty to recharge, which would typically destroy conventional batteries.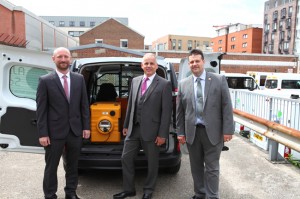 AJR trialled the electric solution in late 2013 during cold weather, running the vehicle for the average drop time of 2.5 hours and opening the door of the Thermoports every 15 minutes and keeping the door open for 15 seconds.
"Running costs are from as little as 2 pence per mile and electrical charging costs from around £1.30 on the lowest rate tariffs," says Andrew Rich, AJR Director. "The manufacturer's service interval is 25,000 miles, which also creates major savings in terms of vehicle maintenance compared to both diesel and petrol driven vehicles. Brake wear, for example, is substantially less as braking regenerates the battery under deceleration.
"The client was given further confidence because engine reliability is the responsibility of Renault, who will replace or repair should a fault occur.
"The system delivered everything Tower Hamlets required, reliability, cost-cutting and consistent temperatures in the food delivery boxes.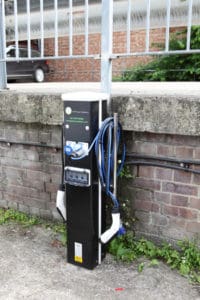 "Other applications include using Rieber boxes powered by battery in conventional vans for pizza delivery, sandwich rounds, hot bacon butties…the beauty of these Rieber boxes is that they are vented, which helps to keep product crisps and prevents the 'sweating' that you find with ambient, air-tight containers."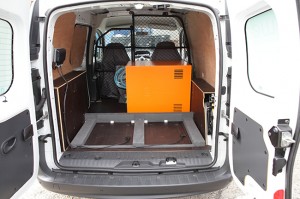 AJR Power Solutions
Tel: 01376-500660
www.ajrpowersolutions.co.uk