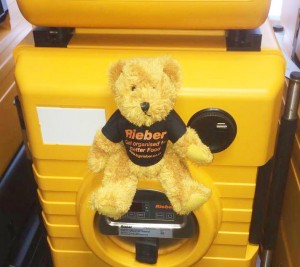 RieBear loves to help serve better food and that is why he has chosen to be an ambassador for BGL Rieber, who make it their job to help public sector caterers cook, transport and serve better food.
The competition to win £500 for your chosen charity is open to all public sector catering managers – contact us to ask for an adoption form, via email to sales@bglrieber.co.uk
Terms and conditions apply – there's only a limited number of Riebears – see TERMS for full details.
To win up to £500 for your chosen charity, just tweet or email your pictures of RieBear helping to serve better food (this could be at your place of work or on your travels…)
Tweet your pictures using #Riebear@bglrieber or send pictures to sales@bglrieber.co.uk and we will tweet the pictures on your behalf.
Riebear's motto: "Get organised for better food"
At the end of 2016 all the pictures will be judged and the top 5 will either win £500, £250 or 3 x £50 for a charity of their choice.