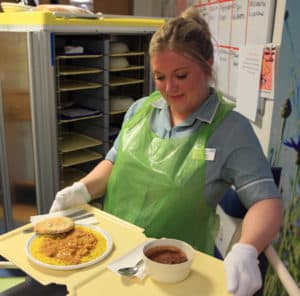 The trials for a new plated delivery system at Harrogate District Hospital proved conclusive.
The Unitray provides the best combination of temperature control, ease of handling and is also the best in terms of ergonomics and health & safety.
"One of the main factors for choosing Rieber was the height," said the Hotel Services Manager.
"We trialled several units from different manufacturers but some were too tall for our staff, causing operational difficulties when it came to dispensing food. Rieber's Unitray was the most acceptable in terms of risk assessments.
"Unitray met our requirements for improved temperature control and a smoother service to the patient at ward level. The one tray system gives more accuracy during the loading process and is easier to operate. The presentation of the trolley, the bowls and the lids, makes for a more pleasant display of the food, which will encourage the patients to eat.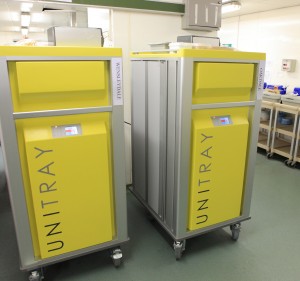 "Unitray is good quality, well-built, available from NHS Supply and is well priced."
Harrogate's Catering Team, which provides around 1,500 daily meals to patients, visitors and staff, has been awarded a five star 'excellent' rating in the local council's hygiene standards scheme and it has also been awarded the Soil Association Food for Life Catering Mark Bronze, recognising its push for fresh meals and good food.
Unitray trolleys distribute hot and cold food at the same time on a single tray. A central partition allows the two different environments to be separately controlled.
Unitray is warmed up prior to loading, then plugged in again to achieve optimal cabinet temperature before being taken to ward level.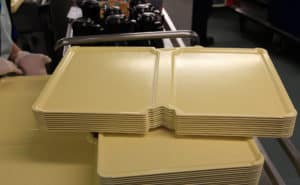 Unitray features forced air circulation to ensure even heat distributi8on. Designed for C/S (cook & serve), C/C (cook & chill) and C/F (cook & freeze) applications, the new Unitray is also 25kg lighter than previous models and is also smaller and easier to handle.