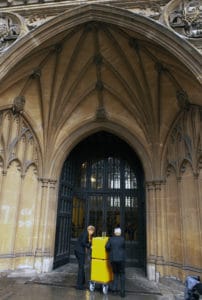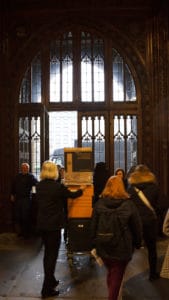 LACA and Rieber Thermoports served school lunch to MP's and Peers at a special event at the House of Commons, marking an end to the 25th National School Meals Week.
"As a parent I know the value of a school meal because my daughter had the benefit for several years," says BGL Rieber's Paul Franks, who organised the food transportation for the day.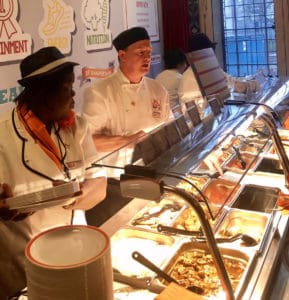 "By encouraging MP's to attend, they saw first-hand just how nutritious and tasty school food is. The event also showed that a delivered meals service can be of the highest quality and we are glad that our Thermoport containers played their part in the proceedings.
"Our thanks go to Nigel Argyle of Elygra Marketing who organized the event on behalf of LACA."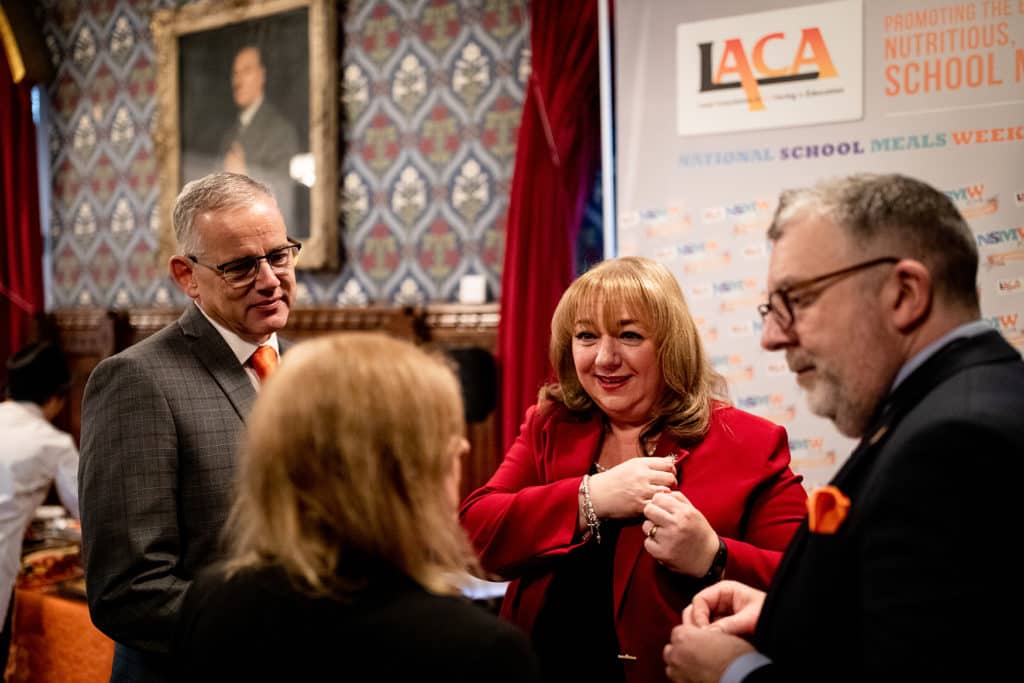 The menu included Lamb Curry, Lemon Chicken, Macaroni & Broccoli Cheese and Salmon Quiche, accompanied with Hasselback Potatoes, Roasted Vegetables, a selection of Salads, Rice and Paratha.
Deserts included Cocoa and Beetroot Muffin, Fruit Flapjack, a Fruit Platter, accompanied by Yoghurts and Crème Fraiche.
Pictured, Sharon Hodgson MP talking with LACA Chair Michael Hales, Vice Chair Stephen Forster and guest.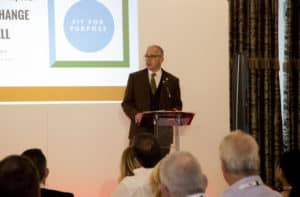 The meals were prepared at Tower Hamlets CPU in Stepney and then transported by BGL Rieber across London to the House of Commons, where the van was met by teams of willing helpers.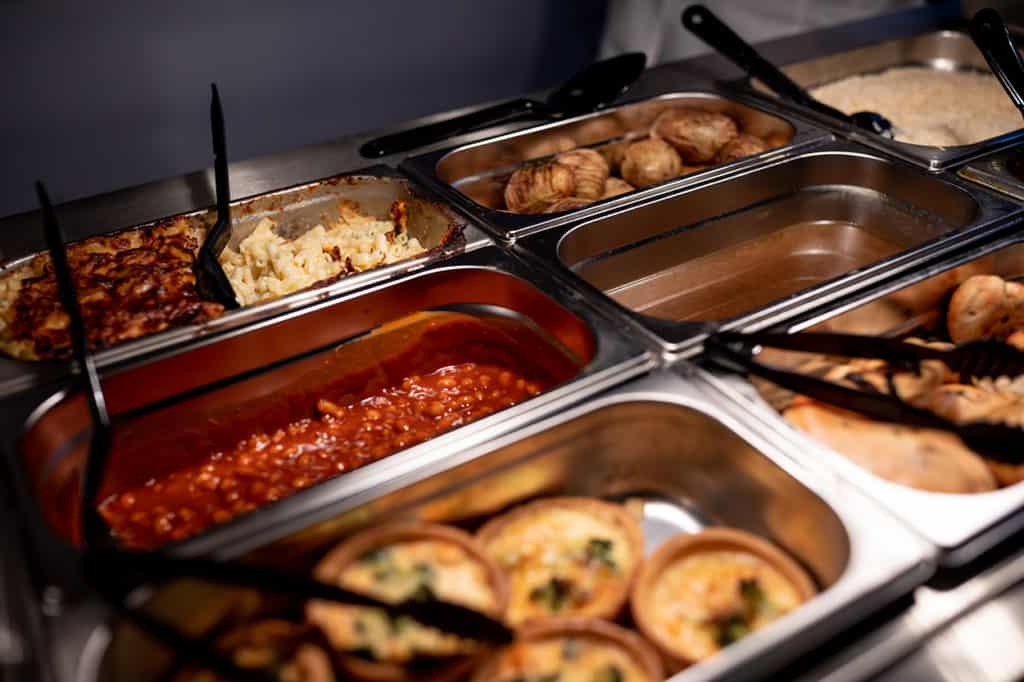 In seminars earlier in the week LACA chair Michael Hales outlined LACA's campaign for the next year, which will be concentrating on an expansion of universal infant free school meals and on tackling the growing number of fast food restaurants springing up close to school gates.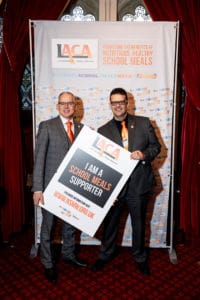 "We want to see UIFSM extended to all primary school children and we urgently want a review of the £2.30 paid for the delivery of every meal under the scheme.
"And we want to try to do something about the vast number of fast food outlets that operate near schools. We know their target market, in fact some don't even bother to open during the day when the schools break up for the holidays, so it couldn't be clearer."
Pictured right: Michael Hales and Paul Franks
In Wales, where the assembly has backed a school breakfast programme rather than UIFSM, he says LACA will be supporting the breakfast club initiative.
Co-hosts for the occasion were School Food All-Party Parliamentary Group Chair and Shadow Minister for Health, Sharon Hodgson MP, with School Food APPG Vice-Chair and Shadow Minister for Housing, Communities and Local Government Roberta Blackman-Woods MP.
Said Sharon: "I am so passionate about the benefits of school meals. It's great to host LACA in parliament today to celebrate National School Meals week's 25th anniversary."
Thermoport boxes containing the hot meals and chilled salads were wheeled through the impressive Members Entrance and into the Lobby of the House of Commons. The event was held in the appropriately named Jubilee Room – 2018 is the 25th silver jubilee anniversary of NSMW.
Find out more about LACA at: http://laca.co.uk