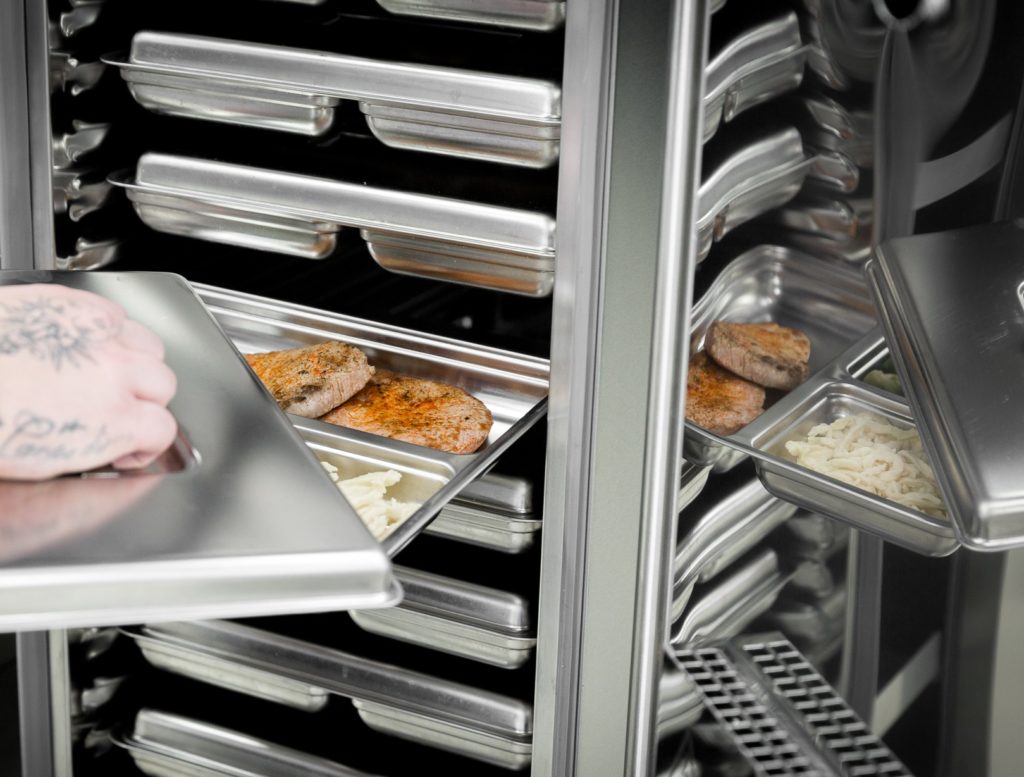 Rieber's JVA Secure Meal System offers a robust, efficient, and high-quality meal delivery system for hot or ambient meals. Chilled food can also be delivered using pre-frozen eutectic plates.
Most importantly during the Covid pandemic, the JVA Secure Meal System provides an ideal solution for feeding those in isolation and preventing the spread of the virus.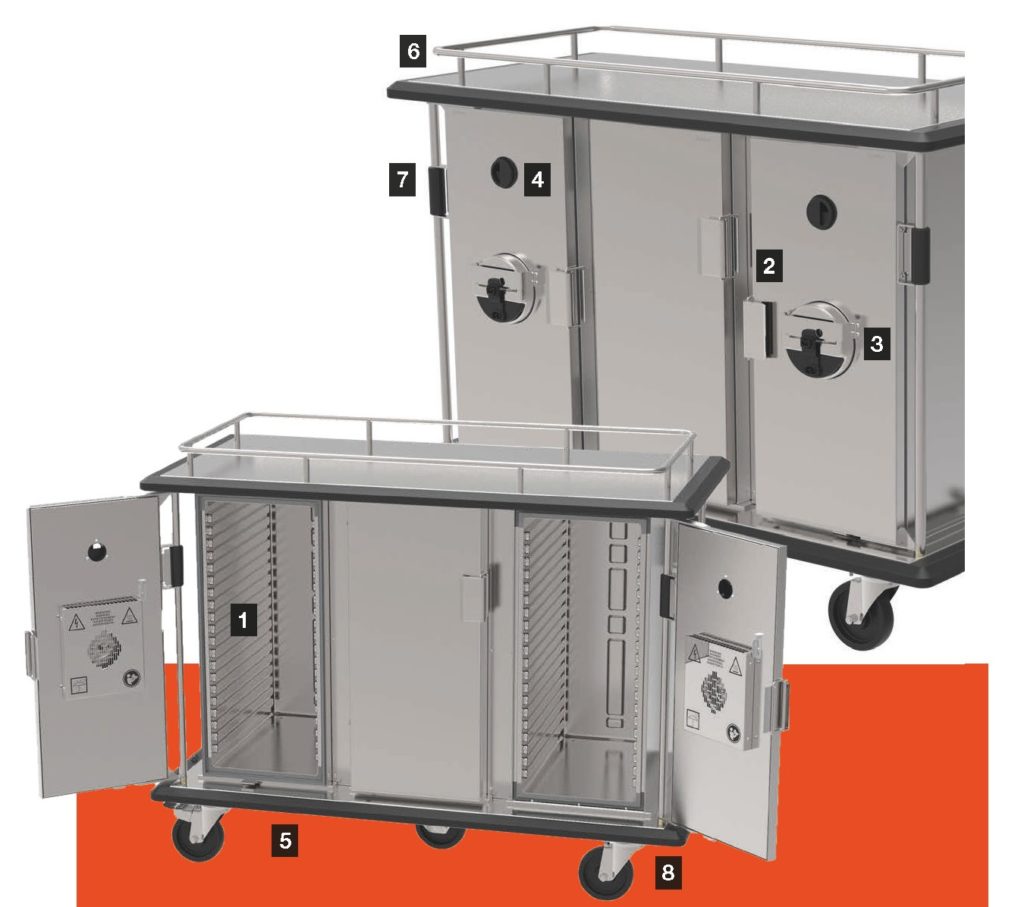 A simple solution, with minimal handling and contact required, JVA meal delivery trolleys have a capacity of up to 40 or 60 meals.
A door element with removable heater provides digitally controllable circulating hot air, ensuring hot meals whatever the weather. Heated models have a temperature range up to max. +100 °C.
Different door configurations are available, for example, a 60-meal capacity two-door trolley or with an additional central section for beverage dispense or cupboard use.
The trolley is designed to work in narrow spaces. Made of stainless steel it has a hinged doors that can be opened to 270°.
Drinks dispensers are also available in sizes between 8 and 24 litres, for hot or cold drinks.
Safety is a top priority and the JVA trolley provides robust, safe and hygienic design.
Each cupboard is ready to connect, with an on/off switch, dummy socket and spiral cable.
Options include castors to suit rough ground. Near silent running of Rieber trolleys is achievable with PUR sound-reduced castors.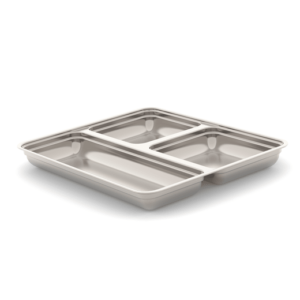 JVA MEAL TRAY
Ideal for use at any mealtime, the JVA Secure Meal Tray is made from 1mm stainless steel, with lid. It features a safety edge and is very hygienic, proven tough enough for use anywhere.
Featuring a 1.25l filling volume and with three compartments, the Meal Tray is compatible with Thermoport GN containers and so keeps food piping hot for as long as required.
Individual Meal Tray: Size: 325 x 265 x 55mm – Weight 1.34kg
Gastronorm-compliant, the tray is size ½ GN, fits a range of Rieber trolleys/boxes and has no sharp edges or corners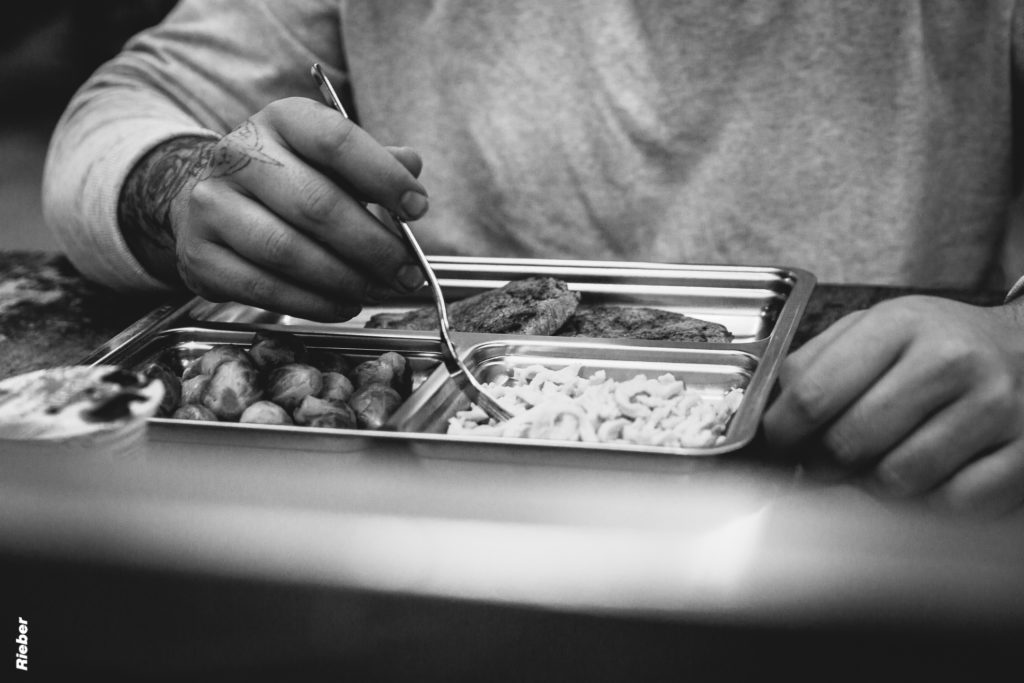 Watch a short video here: https://youtu.be/GDljuUj85p8
Key points: Simple system that just works!
Reusable and dishwasher safe
Robust
Hygienic – food grade stainless steel
Compatible with all Thermoport systems (30 meals can be loaded in to one Thermoport 3000)
Tension latch for easy single-handed operation, optionally lockable with a padlock.
Torx screws. To prevent the unintentional removal of components or wilful damage.