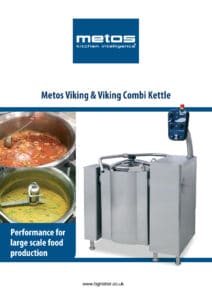 The new Metos Viking range of kettles from BGL Rieber is a safe choice for professional food production.
The new Viking Combi 4G Kettles come in a range of sizes, from 40L to 60, 80, 100, 150, 200, 300 and 400 litre models.
Temperature control is now even more advanced, ensuring food can never burn or stick and even enabling sous vide low temperature cooking.
The Viking Combi features an integrated mixer for versatile food production of both hot and cold food.
Optional cooling feature provides automatic cooling using tap water; easier and better than ever: Set the target food temperature and press start!
Key features Metos Viking Combi Kettle 4G: –
Construction is stainless steel, with the inner surface of acid proof stainless steel
Elevated control pillar with selected features
Temperature control, max. +120 °C
working pressure in steam jacket 1,0 bar
Electric tilting 40-150 L kettles, hydraulic tilting 200-400 L kettles
Tilting height 600 mm
Integrated mixer
Mixing speed control (20-110 rpm)
2 mixing programmes
Auto reverse mixing
Machine washable mixing tool with removable scrapers
Metos Viking Combi Kettle 4G has a distance to the floor of over 600 mm when kettle is fully tilted. This high tilt feature makes it fast, easy and safer than ever to empty; standard trolleys can fit under the kettle pouring lip to receive hot liquids, for example.
Download the brochure online here: https://www.bglrieber.co.uk/wp-content/uploads/2020/BGL_Metos_Viking_4G_web.pdf