BGL Rieber has just concluded a deal with foodservice fire suppression specialist AMEREX, whereby AMEREX KP Strike Electronic Control System (ECS) with electrical detection can now be fitted to Rieber ACS front cooking stations.
BGL Rieber has the design rights to this system, which can be retrofitted to ACS units worldwide if required.
From the professional foodservice consultant's point of view, this development satisfies the demands of the most earnest building fire officer. KP Strike suppression system is a proven quantity in the UK and international foodservice market. The Fire Protection Association carried out the testing and reporting on the system.
Now combined with Rieber's highly efficient self-ventilation system which captures smoke and fumes, the Varithek ACS front cooking station can be used anywhere, such as public spaces, building entrances, offices, function and meeting rooms, shopping malls and stadia.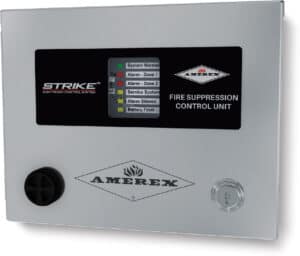 The AMEREX KP Strike panel continuously monitors any trouble conditions and can be wirelessly connected to the building BMS alarm panel keeping the building safe 24/7/365.
HOW IT WORKS: BGL Rieber chose AMEREX to provide fire safety for its ACS units because we believe it provides the best alternative to traditional mechanical fire suppression systems.