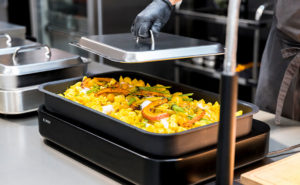 K-Pot is the modern, 'sustainable' chafing dish, now available with 'Connect' — an app which means K-Pot can now be remotely controlled.
Replaces traditional serveries and chafing dishes and introduces a new, sustainable approach to creating hot and cold displays for food serveries and counters.
K-Pot can regenerate chilled or frozen meals, as well as griddle, boil or fry. Cold holding variants are also available.
K-Pot saves energy and improves sustainability for the caterer – and it saves the cost of using the old-fashioned gel heaters essential for traditional chafers! No carbon monoxide is generated using K-Pot and there is no risk of fire.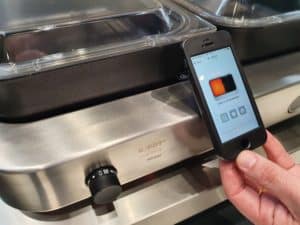 The new app control means that K-Pot can be switched on remotely, to warm croissants for breakfast, or perhaps regenerate the lunchtime meal. For Director's Box dining, event catering or functions in hotels, this remote capability helps to ensure the caterer can provide consistent quality foodservice but with minimal labour.
Find out more about K-Pot here.