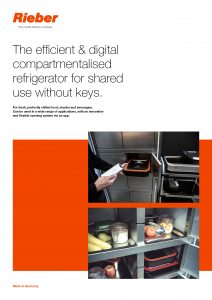 Use it in a restaurant meal and drink pick up location, or by the front door of a building – Rieber's Multipolar compartmentalised fridge will keep medicines or food and chilled drinks such as milkshakes cool and secure, ready for the customer to pick up.
Multipolar Connect refrigeration features ten individual fridges, each with a lockable, app-friendly electronic door.
Mobile phones automatically open the relevant inner fridge door so customers can take their order.
Rieber Multipolar Connect is ideal in offices, university halls, hospitals, residential blocks etc., or where there is high footfall, such as petrol stations, restaurants and retail outlets.
"It takes longer to describe what it does, than actually to use it," says BGL Rieber MD Gareth Newton. "Use Multipolar to provide a contactless, 24-hour chilled pick-up point for food and drink orders.
"With a temperature range that can be set between 2 and 8 degC, Multipolar is also suitable for the safe storage and 24-hour pick-up of medicines.
"The system is amazingly simple, with low investment costs. Rieber Connect opens up new sales routes which also happen to meet the needs for social distancing!"
Read more HERE