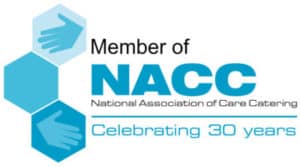 For more than three decades, the National Association of Care Catering (NACC) has provided support and a voice for care caterers.
From demystifying and advising on legislation and regulation to campaigning for vital changes, such as a health and social care catering qualification or protecting the Meals on Wheels service, the NACC has been a great source of information and strength.
The NACC is a progressive organisation representing professionals providing catering to the care industry. They are recognised by Local Authorities, independent providers, the charitable sector and Government departments as a prime source of information and opinion on all aspects of catering within the care sector and whose primary aim is to
improve standards.
BGL Rieber has been supporting and supplying NACC members for decades, with a range of products including Thermoport food transport and distribution systems, K-Pot chafing dishes, gastronorm lids & containers and much more.
We have a passionate belief that by working together and getting "organised for better food", we will jointly help improve the nation's health and social care provision, not just for now, but for generations to come. This will be our legacy.
More information: www.thenacc.co.uk