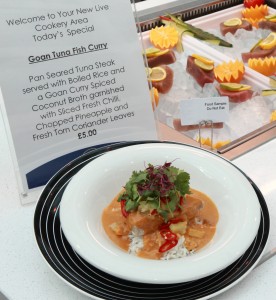 Use the tabs on the left for more detailed information on our most popular products.
Cooking in front of customers raises awareness about the food offer, highlighting that food is being 'cooked to order' and communicating key messages such as the use of all fresh ingredients and healthy eating options.
Placing cooking stations in the front of the restaurant or servery brings energy to the offer; staff are out front interacting with customers, explaining and upselling the menu, making recommendations and helping choose ingredients for the finished dish.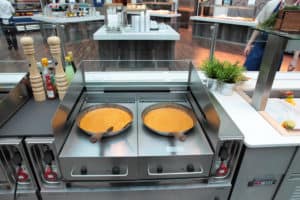 Front cooking also increases the number of covers that can be served, reducing pressure on the main kitchen. From simple fried eggs and bacon, to desserts such as crepes and pancakes – or main courses such as pan-seared tuna served with rice, fresh chopped chilli, Goan curry sauce and a garnish of fresh herbs – 'front cooking' or 'theatre-style' is all about improving communication with the customer.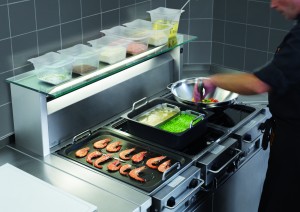 Rieber's  ACS Air Clean System is a 'front' or 'theatre cooking' system accommodating individual slot-in modules – induction wok, griddle, induction and ceran cooking tops and hot food holding.
Featuring integrated ventilation, there is no need for overhead canopies or other extraction. Refrigerated and ambient options offer a system for all occasions including a full hot-plate buffet.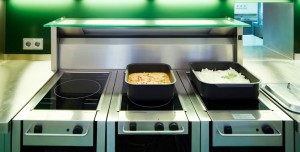 Varithek is a family of modular cooking modules offering improved efficiency and reduced handling for food storage, preparation, cooking and serving.
•    Attractive, professional appearance
•    German build quality
•    All electric power – safe, clean and ideal for demonstrations and customer participation events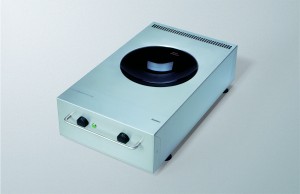 Varithek modules are also available to drop into worktops or serveries; ideal for retrofitting to update an existing counter or for new builds. Why limit yourself to only keeping food hot?
The Rieber EST modular system brings theatre-style cooking and food display to conventional food serveries.
The EST modular system can be utilised to cook anything from fried eggs to noodles and stir fry's (under conventional extraction). It will also simmer dishes such as curry sauces and then keep them hot, ready for service. The EST system simply allows Varithek modules to be replace conventional hot holding plates, making it ideal for new counters or refurbishments.
The advantages of the Rieber EST:
Acts as a conventional food servery
For busy periods use it for the daily 'special' such as stir fry's, burgers, pasta, noodles. Or to promote breakfast trade for example, use EST to cook fresh to order – eggs, bacon, omelettes etc.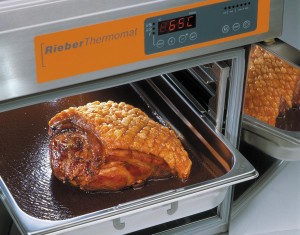 Thermomat is a specially developed "cook and hold" oven available in two configurations – with doors or drawers. Whole legs of lamb or joints of beef, soups, stews, vegetables or ready- prepared meals can be kept warm, reheated or cooked at a low temperature with pre-set temperatures kept to an amazing +/- 1°C. Fitted with doors and with three or seven shelves, Thermomat is an ideal solution for transporting and serving food. The drawer version is sized to suit 1/1 GN containers and the precise temperature control ensures delicate presentation.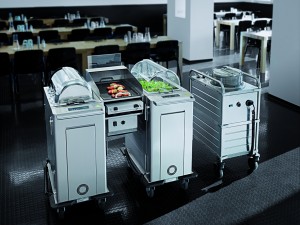 Hybrid Kitchen offers the versatility of a traditional cooking oven, but is fully mobile.
There is a choice with the ACS airclean box to cook in front of guests, with options including stir frying, griddling and boiling using the Varithek prime cooking system.
It is especially designed to reheat from frozen, chilled or ambient, making it ideally suitable for meals regeneration for schools, B&I, contract and event catering where a mobile solution is required.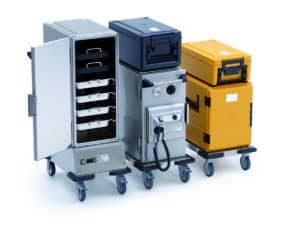 Hybrid Kitchen is ideal for serving 15 to 500 covers and should appeal where there is a requirement for flexible serving options but limited facilities.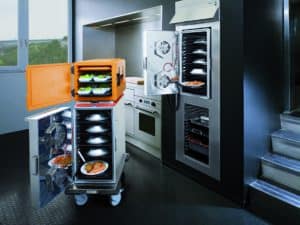 The components of Hybrid Kitchen combine front cooking options with attractive display units and Rieber's renowned Thermoport bulk food regeneration and delivery systems and hot and cold food boxes. Display options include smart stainless steel GN ports for hot food and transparent chilled units for salads, pastries or desserts.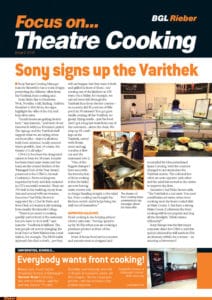 Click here to read the Rieber Newsletter on Theatre Cooking.