Rieber Thermoport 10 insulated food containers have earned "rapturous applause" from the Prison Service for helping to feed prisoners out of hours.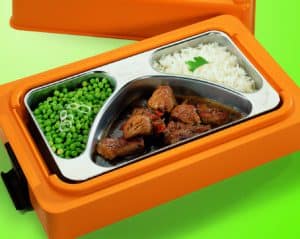 For those prisoners that require feeding when the main kitchen is closed, or for those choosing to fast from dawn to sundown, prison caterers are switching to using Rieber Thermoport insulated containers to provide a hot food service that's convenient for the prisoners and the prison!
Prior to using Thermoports, prisons fed fasting prisoners by serving up sandwich based meals or hot soups or stews in vacuum flasks. Both methods required extra labour and supervision by the prisons to ensure the food was served at the right temperatures – vacuum flasks, for example, will only hold hot food for a few hours.
Rieber's Thermoport 10 insulated food containers will keep one meal hot for more than four hours, saving time and labour for the prison service. The boxes are filled and sealed during the usual lunchtime or evening meal service and then collected by prisoners. No extra labour is required and the prisoners get a good hot meal when they are ready for it.
HMP & YOI BULLWOOD HALL: "They just work! This will be our 2nd year using the Thermoports. We cook the food in them; placing the food directly inside the stainless steel containers and then steam them in the oven. Before we used vacuum flasks and fed the prisoners late; but that kept staff back. Now we serve the main meal and then hand the boxes out to those fasting. It's so much easier. We use them all year round; there's usually one or two fasting all the time." Catering Manager
HMP GARTH: "They are brilliant – we have been using them for two years. We were recommended other boxes by the prison service but the Rieber boxes are better. They keep the foot piping hot. We carried out a test starting at 86degC. Four hours later they were at 78degC. The catering staff are happy and the Imam and prisoners have given rapturous applause. They also save labour for the rest of the establishment – we just have to hand them out." Catering Manager
HMP ONLEY: "Thermoport…no problems! They kept the food hot and there was not one single complaint; in fact we had compliments from the prisoners and the Imam. I do think you need the heaters. It does take time for the gel to heat up (you can't do it in the oven in 15 minutes) and in 1.5-2 hours they are red hot." Catering Manager