The University of Warwick now has five Rieber Varithek units, three used for mobile cooking and two fixed units.
During fresher's week, a mobile Varithek was used to show students how to cook simple dishes for themselves, including pasta, chicken casserole, savoury pancakes and a stir-fry. "We also work with Old El Paso to demonstrate how to cook fajitas for students at home," says Graham Crump, the University of Warwick Executive Development Chef. "Varithek really is very versatile; you can just move it around for various events."
PICTURED: Mobile Varithek with Induction Wok assists with service at University House
Says Graham Crump: "You have to be careful with cooking smells; the Varithek's built-in extraction does take the smoke away but not necessarily the smell of the food – say tuna. So where lingering food smells after lunch could be an issue, in a building used for lectures after lunch, for example, we cook dishes such as Japanese omelettes and warm salads."
Forty to 50 of these dishes can be cooked and served in an hour. To keep queuing to a minimum, customers pay for their food after ordering, by which time the dish has been cooked and plated.
One mobile Varithek recently caused a Wow! at a Saturday night function, where it was used for cooking and serving hot canapés including Kobe beef brochettes and king prawn frittatas.
HELL'S KITCHEN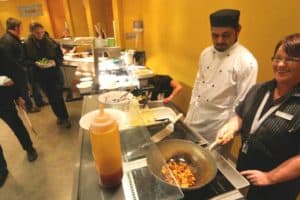 A Varithek mobile unit has also been used by Warwick Conferences for a Hell's Kitchen event, an exercise designed to take managers out of the classroom and put them under the spotlight, challenging their leadership, team and practical skills in a fun yet pressurised scenario.
Two teams of 12 took part in a recent Hell's Kitchen, challenged with producing a three-course meal for 40 diners including senior management from their company. Professional chefs using the Varithek demonstrated how to cook the three courses. Being fully mobile and self-ventilating, each team could stand around the unit and get a clear view of what cooking skills were required. After this, they went into the main kitchen to battle it out.
Another of the University's Varitheks is built into the counter in the Scarman building. "This unit is used particularly for demonstrating private dinner menus. Cooking the food in front of the client helps us to upsell the menu," says Graham Crump.
Graham Crump has been working with Rieber's Varithek units since he introduced a new fusion-cooking concept in 2007. The area selected to host 'Bar Fusion' had no gas and limited extraction.
"We needed to filter the cooking fumes and warm air without too much expense," he explains. "We would be cooking noodle dishes, Thai curries and a lot of stir fry. Normally you would need gas but we had none. We needed kit that could handle those restrictions.
"Rieber's Varithek ACS was introduced here five weeks before Xmas 2008 and has been a roaring success; it's very attractive and earns its money."
The menu includes items such as crisp dumplings with dipping sauces; five spice pork with soba noodles; Japanese teriyaki chicken with stir-fried udon noodles; tom yam noodles and Thai green curry with coconut jasmine rice.
"The products we bought were a 16 amp single-phase model with two induction hobs and one wok hob. We also have a larger 5kW Rieber induction wok.
"BGL Rieber gave us a trial model and it proved to work extremely well; so well we bought it. Yes, it initially sounds expensive and you expect the quality to be there. It is. After delivery, the unit just plugs straight in and you can start cooking. It is simple and does its job. We can be operating virtually 24 hours a day with no hassle. We have now ordered a second unit!"