"Food delivery is a new for us and we looked at a number of options before choosing Rieber."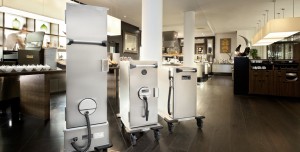 , following the closure of two kitchens. Food will now be transported using Rieber Thermoport 2000 food transport containers.
Richard Priestley, Senior Executive Chef at NHS Bradford District Care Trust explained that, "We visited existing users including Rieber sites in Prestwich and in south Wales and decided the best option for us was Thermoport.
"Because we needed to deliver hot and cold food together, Rieber was the best fit and the combination of hot Thermoport 2000 and cold Thermoport unit placed on top is ideal.
"We use a cook fresh system and the food requires distribution to 11 wards, some by delivery vehicle and the rest manually.
"We have had to adapt our recipes and methods to accommodate the new system and the whole process has gone very smoothly. Throughout the whole process Rieber's Regional Sales Director Alan Drayton has been very helpful and user friendly, providing comprehensive answers to queries on capacities, temperature checks etc.
"Rieber really has met our needs."