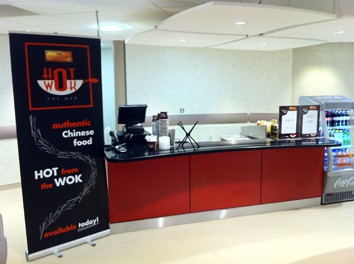 Heriot-Watt University has introduced food court catering following a £400,000 refurbishment of its catering facilities.
Explains Thomas Day, General Manager, Hospitality Services, Heriot-Watt University: "We completely refurbished a 1980s style refectory to create a food court more suitable for 18-24 year old students.
"We wanted to move away from the traditional three-course meal offer and, at a cost of £400,000 including £91,000 on new equipment, we stripped out the refectory and re-fitted it to create a 'grab and go' food court offering a lot more choice, with a total of six service points to cater for up to 1,000 students on full board.
"New counters have been introduced including two flexible fresh food counters for theatre cooking – fresh burgers, stir fry noodles, pasta, curries and Chinese wok dishes.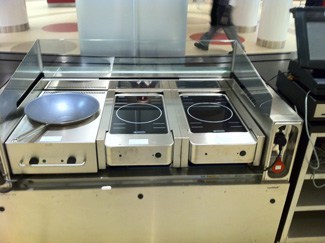 "We also have a soup station, a great salad bar and offer a selection freshly filled sandwiches and baked potatoes.
"Everything is made fresh on a daily basis and the new concept has worked so well, we can hardly keep up with demand. It is great to be in front of the students cooking, rather than serving from behind the old fashioned hot counters.image
"We chose to use two of Rieber's self-ventilating Varithek triple induction units for the theatre cooking areas because it saved the expense of installing overhead ventilation and also means the units can be moved where needed to cater for conferences.
"We keep pushing energy efficiency and that is the other advantage to using induction."
Read more in the online version of TUCO Magazine, Pages 74 and 75, January 2013 issue: TUCO Magazine, January 2013
Heriot-Watt University has come top in the UK for student experience and has been named Scottish University of the Year – the same week as being voted by students as best university in Scotland.
The National Student Survey (NSS) 2012 has revealed the University's meteoric rise in clinching Number 1 university in Scotland (up from Number 3 last year) and Number 4 university in UK (up from Number 29 last year).
Also, The Sunday Times University Guide 2013 names Heriot-Watt as Scottish University of the Year for the second year running – and it also becomes the UK University of the Year for student experience.