A glass basket spends more than 99 % of its time outside the dishwashing machine; that is why it should not be constructed solely for that purpose.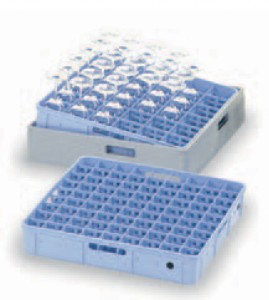 Thanks to the smaller dimension of the 460 mm Nordien basket, together with round corners and soft edges, the serving staff can easily carry the basket on their arm, at the same time as putting glasses on the tables. The smart construction and the colour-coding options for different glassware make it possible to use the basket within the conference, banqueting, restaurant and bar areas.
For more than 30 years the 460 mm basket system has been developed and improved in close co-operation with operators all over the world.
The 460 mm baskets are ideal in the storage area. The low sides not only enable easy identification but also give a much larger storage capacity as the distance in height between the baskets can be reduced to a minimum and still give easy access to the glasses.
The low sides drastically reduce the breakages in the handling-in area. When the 460 mm basket goes through the dishwashing machine it is placed in an open dish-washing basket (500 mm).
When Nordien-System open 500 mm baskets are used the 460 mm basket can be placed tilted for the optimum wash and dry result.
DOWNLOAD THE NORDIEN CATALOGUE HERE:
http://www.hackman.com/hackman/doc/Nordien_System_Catalogue_2013.pdf
The advantages of the 460 mm system:
User friendly for both serving and stewarding staff
Less weight
Available in 11 different glass compartment diameters for the majority of glasses to fit exactly, minimizing the need for high baskets
Available in a high version for tall glasses when the diameter of the foot is larger that the bowl
Coded with different colour codes for each individual compartment size
Ridged compartments ensure minimal water marks on the glasses
The goods are washed tilted for the best washing and drying result without reduced capacity
The baskets are washed in a container basket and therefore remain undamaged and unscratched
Less space required for empty baskets
A complete system with baskets, trolleys, shelving and tabling
Used worldwide