Medirest has provided patient meals and refreshments at Southend University Hospital NHS Foundation Trust for over 13 years.
Southend is the seventh most densely populated area in the United Kingdom outside of London.
The hospital has nearly 700 inpatient beds, 30 wards and more than 4,500 staff comprising 181 consultants, 309 other doctors, 1,214 nurses and 2,824 support staff.
During 2013/14 the hospital admitted 91,391 inpatients, fed via Medirest's Steamplicity meals service based on chilled meals cooked fresh for the patient at ward level.
A new innovation under trial is the use of tablet computers by ward food service assistants who take the patient's meal choice from the a la carte menus and enter the order onto the tablet along with basic patient details, any special dietary requirements, such as allergens and bed number. Once the orders have been taken for the whole ward, the information is transmitted via 3G to a host server, which is accessed by the catering department.
Patient meals, including made-to-order salads and special dietary requirement meals are assembled in temperature controlled picking rooms and transported to the ward using Rieber Midi-K Thermoport food transport containers.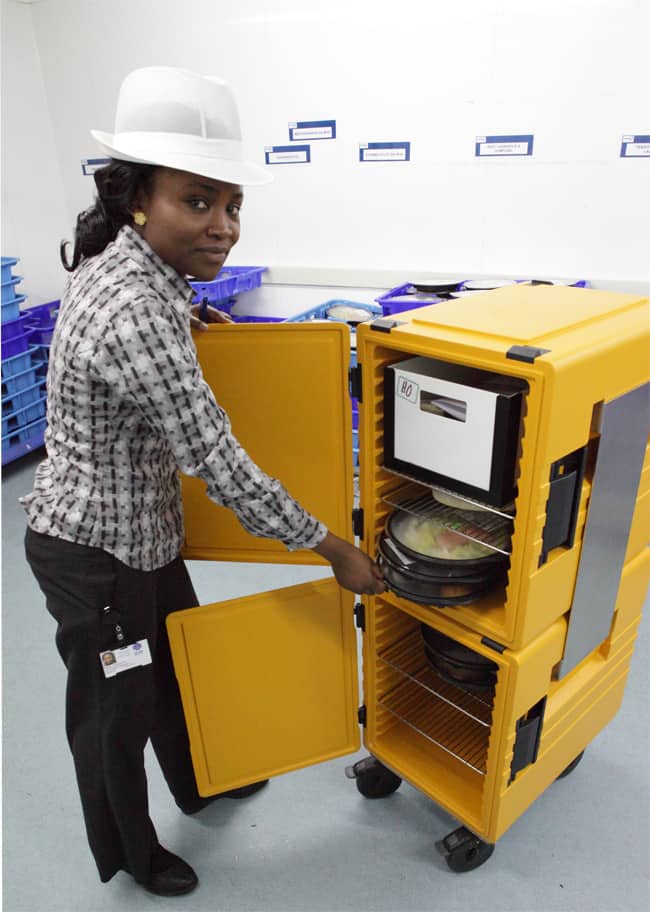 Pictured: Medirest Operations Manager showing the patient's meal order and choice of meal. The tray is inserted into a Rieber Thermoport container and transported to ward level, where the meals are decanted into the ward fridge until needed for service.
The General Manager Operations, at Southend University Hospital NHS Foundation Trust, said, "We wanted to use the Rieber containers as they hold the correct temperature until the meals are served to the patients. The boxes are also used for transporting ice cream, and even if less than half full, they hold temperature for the 1.5 hours required."
Medirest at Southend has achieved an average 92% score in its meal surveys carried out individually with patients.
Other innovations for Southend include a sandwich service for A&E patients, sandwiches and drinks service for chemotherapy patients and a choice of sandwiches or hot food for day assessment patients.
High calorie snack rounds with the offer of cakes, biscuits, milk puddings and chocolate are also provided at ward level, to help get more calories into the diets of those that need it, such as elderly patients.