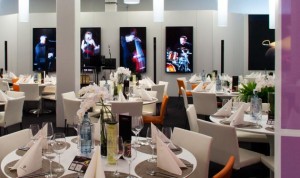 Rieber Delivers Well Thought-out Catering
With the right technology and the appropriate equipment for a VIP area, Rieber is on show for the first time at the Porsche Tennis Grand Prix. A company that began as a small blacksmith's shop for a carpentry and joinery workshop at the foot of the Swabian Alb mountains in 1925 is now a global company that regards itself as a leading supplier of complete catering systems for schools, companies, caterers, hotels and restaurants, clinics and homes as well as for armies.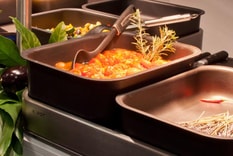 Rieber GmbH & Co. KG. provides high-quality food, safety and low operating costs particularly where there is a space/time gap between food production and consumption. Both young to old, hot and cold, for 1 or 1,000 people.
Thanks to its expertise in "professional forming" (deep drawing of stainless steel), Rieber is also a successful supplier of industrial components in addition to its professional and private kitchen world. These also include well-known manufacturers from the automotive, aviation and investment goods industries in addition to commercial kitchen companies. With over 40 international design, material and innovation awards, Rieber demonstrates its innovative operating principles and is synonymous with its "made in Germany" quality and technology.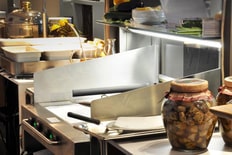 Rieber – "Protecting Food"
The Carrera Lounge, Targa Lounge and Bar, Set & Match want to be the perfect venues at the Porsche Tennis Grand Prix. That's why Rieber, the new partner, is fitting out the three VIP areas with its K-Pot. The classic heating plate with a water bath is being replaced by a stainless steel unit with an energy-saving ceramic hob. This fits with Rieber's philosophy of "Protecting Food," guaranteeing the quality of food whilst conserving our resources.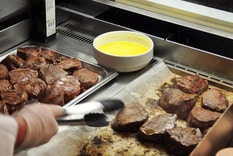 What might sound trivial is in fact a major task that has not yet been solved. It was not long ago that Ilse Aigner – Consumer Protection Minister (CSU) – wrote that every German throws away 82 kg of food each year. Everyone also knows that food in Germany travels 4,000 kilometres on average before it lands on our plates. As the handling of food is still not organised in a satisfactory manner, even in industrial nations, there is urgent need for a new infrastructure. Rieber is committed to this issue in order to contribute to better food in harmony with nature.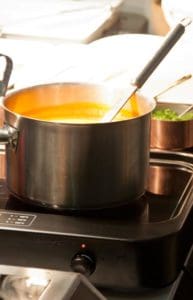 The right catering infrastructure is crucial, even at the Porsche Tennis Grand Prix. Rieber, the new partner, is on hand to ensure that the guests in the three VIP areas have everything that they want and need. All manufacturers in the commercial kitchen industry are dedicated to the development of new thermal equipment. Rieber places its focus on the process in order to guarantee logistics and quality. The Gastronorm (GN) operating system is the focal point. GN containers are standardised stainless steel containers that are used to store and serve food. Up until now, food was cooked in conventional pots and often stored and transported in plastic bags.
Rieber has now further developed the container into a fully functional vacuum cooking pot that reflects the complete food flow: from storage, preparation, cooking and transport through to serving.
Process optimisation enables users to save on high energy, operating and logistics costs and achieve the best quality.