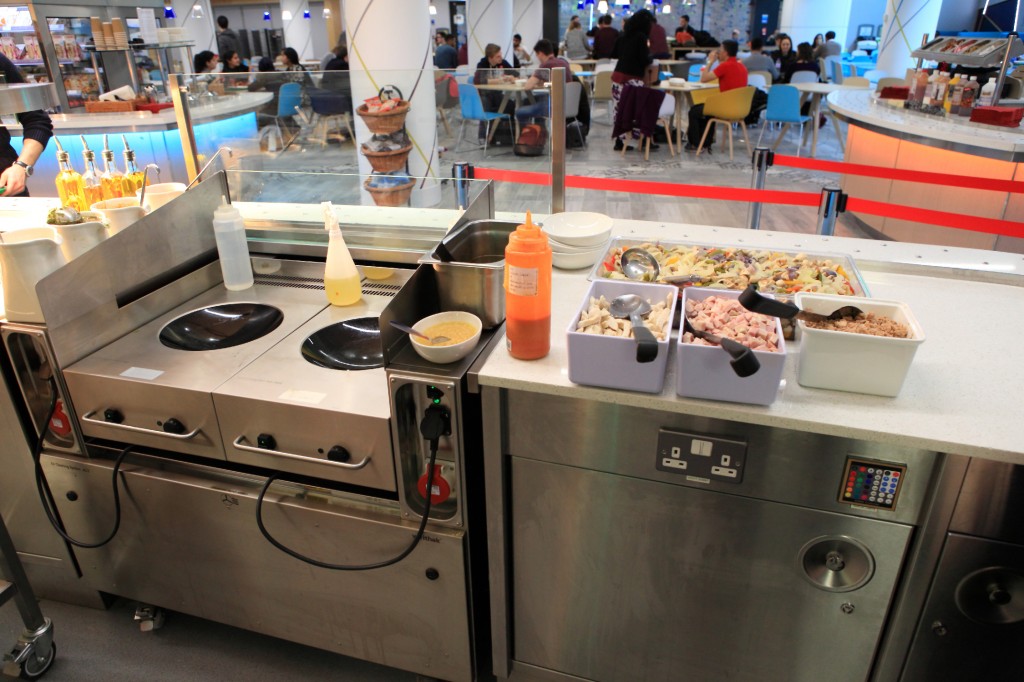 Two Varithek front cooking stations have been installed within a new Promart servery counter at the 380-seat restaurant at Birmingham Medical School.
The 12-week refurbishment project, designed and delivered by Promart, has seen sales rise by up by 12% per day, reports Mark Houghton, Executive Chef, University of Birmingham.
"Varitheks make the food look at its best and bring live theatre cooking to the customer. They really do help increase extra revenue."
The ACS1100 Varitheks were supplied with induction wok, hob and griddle modules and are used throughout the day, including breakfast service of bacon, eggs and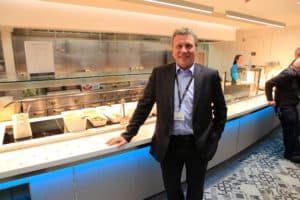 omelettes, lunch and dinner service including burgers, omelettes, kebabs, oriental stir fries, curries and Mediterranean pasta. Some 100 meals are served via the Varitheks with more than 500 meals served in a single lunch session from the counter area as a whole.
There is a two-minute turnaround on average for each customer at the two front cooking stations. Price points vary from £2.85 for a made to order omelette cooked on the Varithek griddle plate, to £3.90 for an oriental stir fry.
The Varithek front cooking offer is proving extremely popular and yes there are queues and we've installed a barrier system to control the flow. But there are four or five other offers including a deli counter so if people are in a rush, there is no need to queue for food.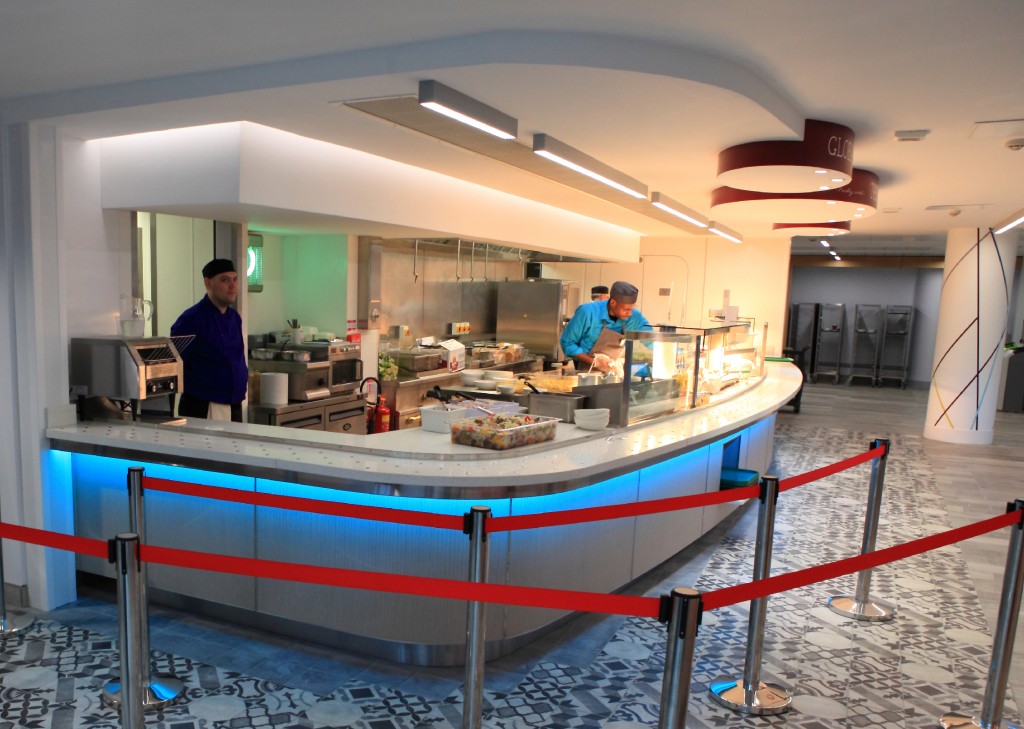 "I had Varitheks in mind from the start of the design process; we have two other Varithek units, in a kitchen within the student dining area (the Hub) and a triple module unit servicing a wet noodle and pasta bar, with the modules providing bains marie, pasta boiler and warming section which holds three different broths.
"I chose to take the range of modules with the two new Varitheks – wok, induction hob and griddle – to provide flexibility. There is always a chance of menu fatigue and the modules are held in reserve to provide new menu concepts as required.
"M&E is one of our biggest costs and the Varithek does away with the need for additional ventilation. There is no need for an overhead canopy so the units can be moved anywhere we need, for example, to cater for small dinner parties – the University has a very busy programme of events.
"Training on the Varitheks was provided by BGL Rieber and I would also recommend Promart. They designed and manufactured the counters and have designed and installed some of our coffee shops and smaller food units. Promart gave us a first class service and turned it around in very quick time."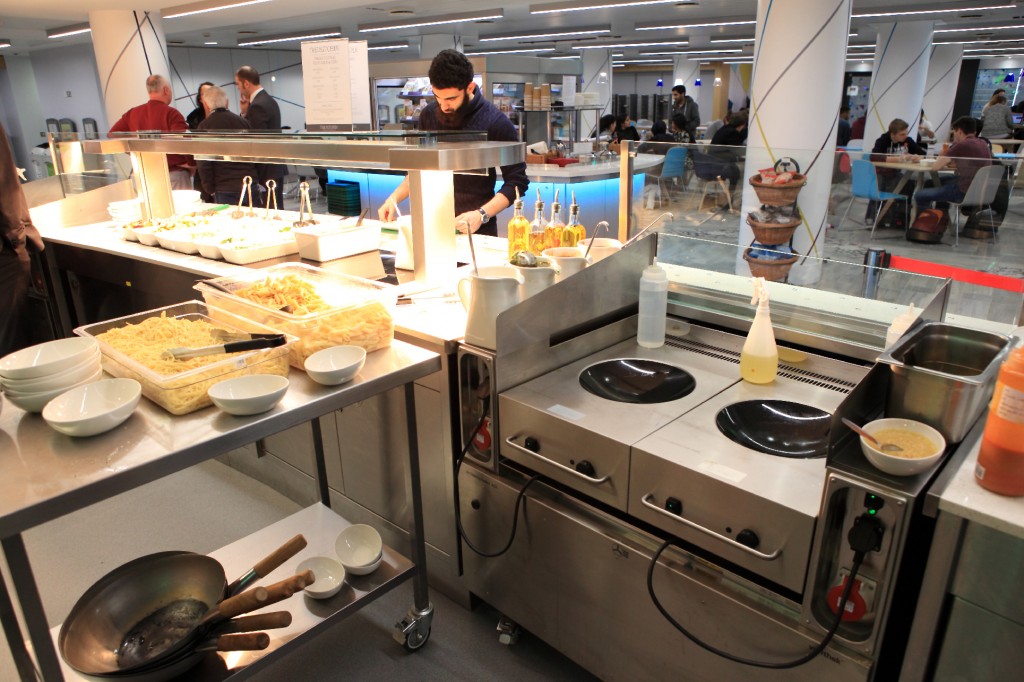 Birmingham University has 28 food outlets, 33,000 students and 7,000 staff, with 5,500 students alone at the Medical School
A 3-week menu cycle at the wok cooking station in the Medical School features Oriental/Pan Asian, Indian sub-continent and Mediterranean Pasta dishes. King Asia Foods (also a user of BGL the Oriental offer Rieber's Metos cooking kettles) provides much of the sauces used for the Oriental offer.
The Oriental/Pan Asian cuisine, for example, offers a comprehensive choice.
Vegetables
        Bean sprouts
        Sliced water chestnuts
        Sliced bamboo shoots
        Shredded Chinese cabbage leaves
        Shredded carrots
        Sweetcorn kernels
        Sliced mixed peppers
Proteins
        Shredded chicken
        Sliced char sui pork
        Fried diced tofu
Carbs
        Egg Noodles
        long grain rice
Sauces
        Sweet & sour
        Black bean
        Plum
        Soy
        Chilli puree
        Ginger puree
        Garlic puree
Self-serve garnish
        Chopped coriander
        Chopped spring onions
        Peanuts
        Soy sauce
        Hot chilli sauce
        Sweet Chilli Sauce
        Sesame oil
Michael DaCosta, Sales Manager, Promart commented: "We have used the Varithek in our counters many times, for the project in Birmingham, but also at the Scottish Government. Varithek enhances our counters and provides additional flexibility.
"I have known and worked with Jeff Fishlock, BGL Rieber's B & I and National Accounts Director, for a long time. BGL Rieber and Promart working together is a great team.
"All in all, we are very happy with the service from BGL Rieber and so are our customers – feedback is very good."