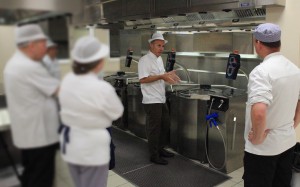 County Hospital Stafford has reorganised its catering and completed the installation of a new cook-freeze system based on Metos Proveno cooking kettles.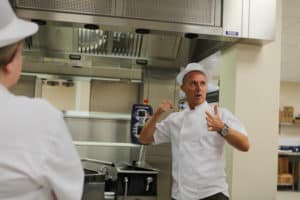 Trust Catering Manager Robert Willatt said, "Following the reorganisation of the catering department, the service has been streamlined in relation to cooking activity, improving productivity.
"Patient choice has also been improved because they are now able to choose their meals on the day of consumption. This will in turn help reduce food waste and provide a better experience for the patients.
"Key improvements that the kettles bring are new digital controls and automatic mixing. We are saving on manpower and the new kettles are easier to clean and are more ergonomic because they save on lifting."
Pictured is BGL Rieber's development chef Alan Evans giving a briefing to Stafford kitchen staff, who had been using the older version of Metos kettles.
The new models include an auto-reverse mixer for mixing & whipping and Alan explained how the mixer can be used to break down mince when browning and how the auto-reverse can aid the process of making mashed potato.
Stafford has some 350 beds and meals are now transported to wards in bulk and served to patients by members of the catering team.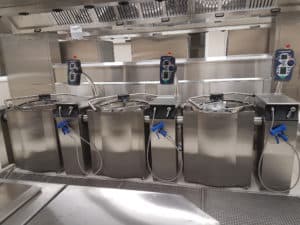 This provides increased flexibility regarding portion size and menu choice compared to plated systems.
It also helps reduce food waste but more importantly, brings the point of selection closer to meal times and helps ensure the patient chooses a meal relevant to their appetite and wellness.
Stafford's new kitchen utilizes the kettles, bratt pans, plus a bank of combi ovens and prep equipment including large food mixer and pastry brake.
Proveno kettles automatically cook, stir and mix. Automatic 'Burn Prevent Control' ensures nothing sticks or burns. Featuring electric tilting, a 'high tilt' position 600mm from the floor means trolleys can fit underneath for emptying, reducing lifting. This also makes the kettle easier to clean.
The catering team at Stafford are only the third hospital in the country to achieve the Soil Association's Food for Life Gold Standard award.