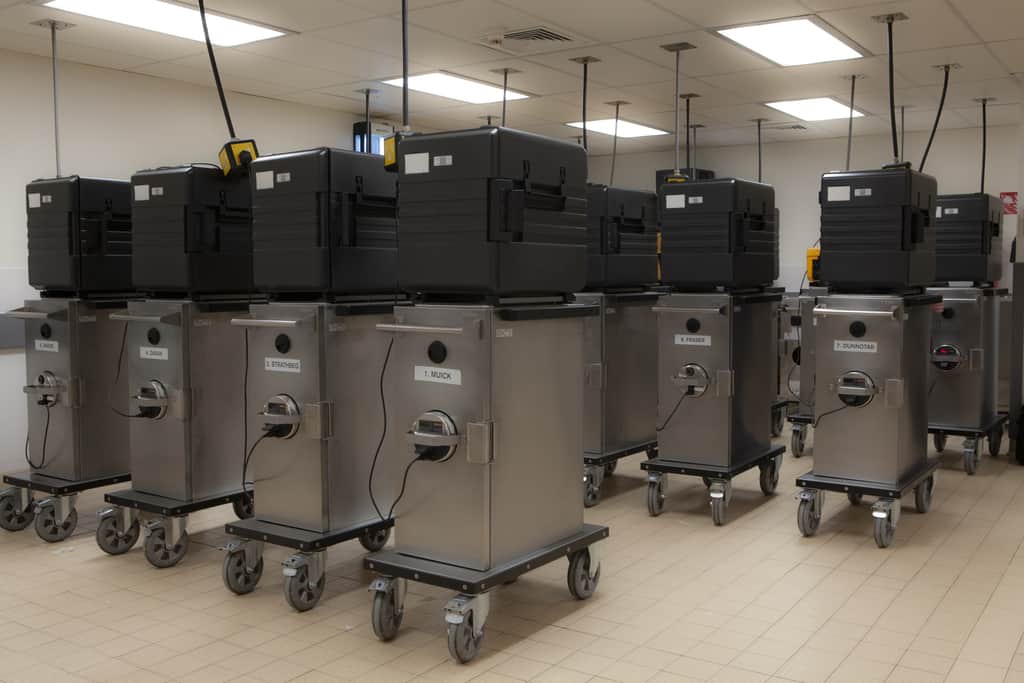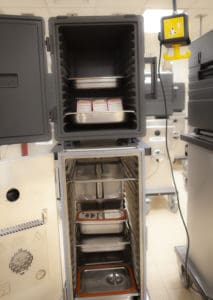 To deliver its fresh cooked patient food in bulk on site and to outlying hospitals across Aberdeen, The Royal Cornhill Hospital has chosen Thermoport 2000HD heated food transportation trolleys.
These were supplied with black Thermoport 1000 unheated boxes mounted on top to hold items such as sandwiches, fresh fruit, salads and cold desserts.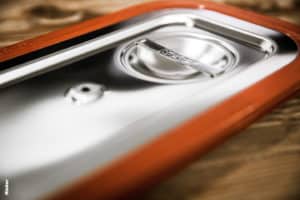 The hospital cooks fresh, so its hot fare including soups, stews, curries, casseroles, roasts, stir fries, stovies, haggis, vegetables and a range of puddings is safely transported by hand and by vehicle using Rieber's press-in Non-Spill lids and GN containers.
This is the second generation of Thermoport trolleys and insulated boxes used at the hospital for transporting hot and cold food across the trust outlets.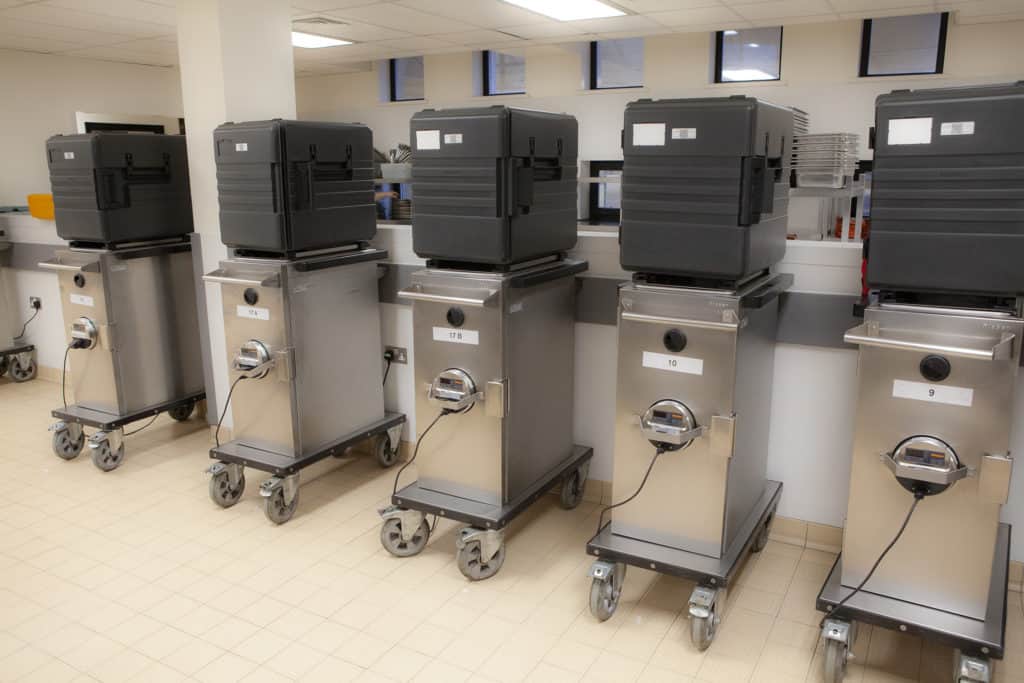 Inside the kitchen, there are three separate areas, one for each of the delivery destinations. Two local hospitals receive a delivered service by van from Royal Cornhill.
Aberdeen's weather can be some of the most severe in the UK and the tender specification emphasized ease of handling and especially that the trolley be stable on slippery surfaces outside, when the weather turns icy.
Lynn Christie, Catering Manager, Royal Cornhill Hospital noted that there are several different types of floor surface for the trolleys to deal with.
"The bulk delivery trolleys had to be easy for staff to handle and manoeuvre," she explains.
"The castors on these new trolleys are larger than the previous model and have made a difference to the handling, soaking up the bumps better and making the trolleys easier to steer.
"Trolleys are heavy when loaded and handlebars on both ends assist with handling, especially when it can be icy outside when loading the delivery vehicles.
"We looked for robustness of build and ease of handling around corners and through doorways. They also needed to be easy to clean and maintain.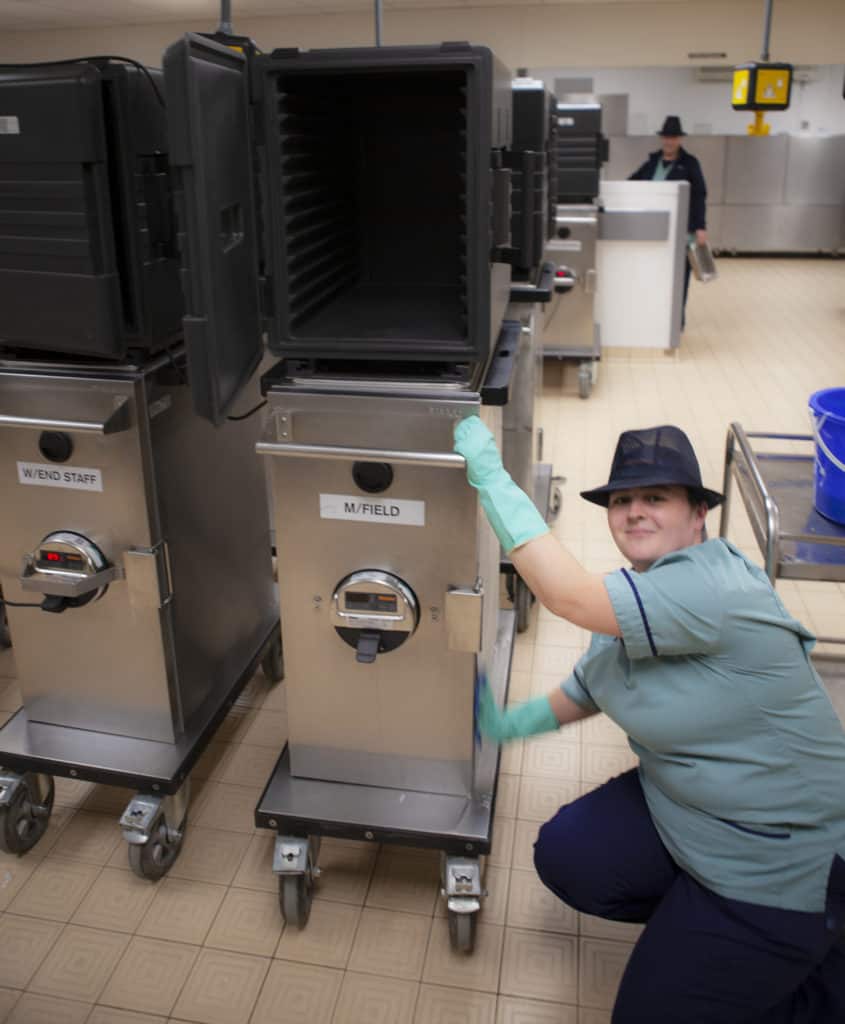 "The health and safety aspects of equipment is so important. We had to ensure the welfare of our staff, especially when it comes to handling heavy loads, both inside and out.
"We had proved the temperature control from the outset; there were no issues at all. Temperatures are checked in the kitchen and at ward level with only "minor" differences noted on site and at the outlying hospitals.
"It was the safety features on the Rieber equipment that was enticing in terms of helping us with health and safety.
"The black Thermoport boxes on top are fixed in position and do not need straps to hold them secure. For delivery of chilled items, ice platters or cool pellets can be placed on the bottom of the front opening boxes and GN containers stacked overhead.
"This type of box was chosen because they help with health and safety; loose items are held in GN containers, held securely by the rails inside the box.
"The heater is housed in the door," continues Lynn, "and it is protected by a stainless-steel cover, preventing damage from accidental knocks.
"Rieber's trolleys are entirely fit for purpose. We also have a good working relationship with BGL Rieber and its Regional Director, Steve Scragg. They respond quickly to queries and there is good communication with regard to parts and spares."