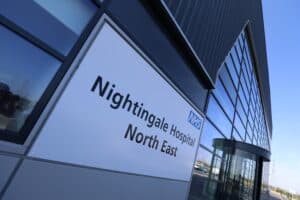 In less than four weeks, a new NHS Nightingale hospital was completed from scratch in Sunderland, Tyne and Wear.
With the potential to provide up to 460 ventilated beds for patients with Covid19, the hospital is one of seven Nightingales set up around the country as part of the country's response to the global pandemic.
Catering management had short notice to prepare meal services to support both Nightingale staff and patients.
Geoff Moyle, Trust Catering Manager at Newcastle upon Tyne Hospitals NHS Foundation Trust (the Freeman and Royal Victoria Hospitals) acted swiftly to prepare a detailed plan, including contacting key suppliers to determine what could be achieved within such a short timescale.
Says Geoff, "The hospital needed kitchen facilities to cater for patients and staff, so we needed trusted suppliers to step up and help us out.  All of our suppliers raised their game and worked incredibly hard to help us complete this project on time."
BGL Rieber's Regional Director Steve Scragg commented. "The urgency of the situation was made clear when Geoff phoned at night to brief me. Given the number of meals and the logistics involved, we recommended a mix of heated and ambient insulated food transport boxes, fitted with a mix of stainless steel GN containers and non-spill lids to hold the various menu items.
"Newcastle upon Tyne Hospitals NHS Foundation Trust are to be congratulated on moving efficiently to confirm the requirements. Rieber in Germany also acted swiftly. The order was turned around in less than 48 hours and we were among the first to deliver on site."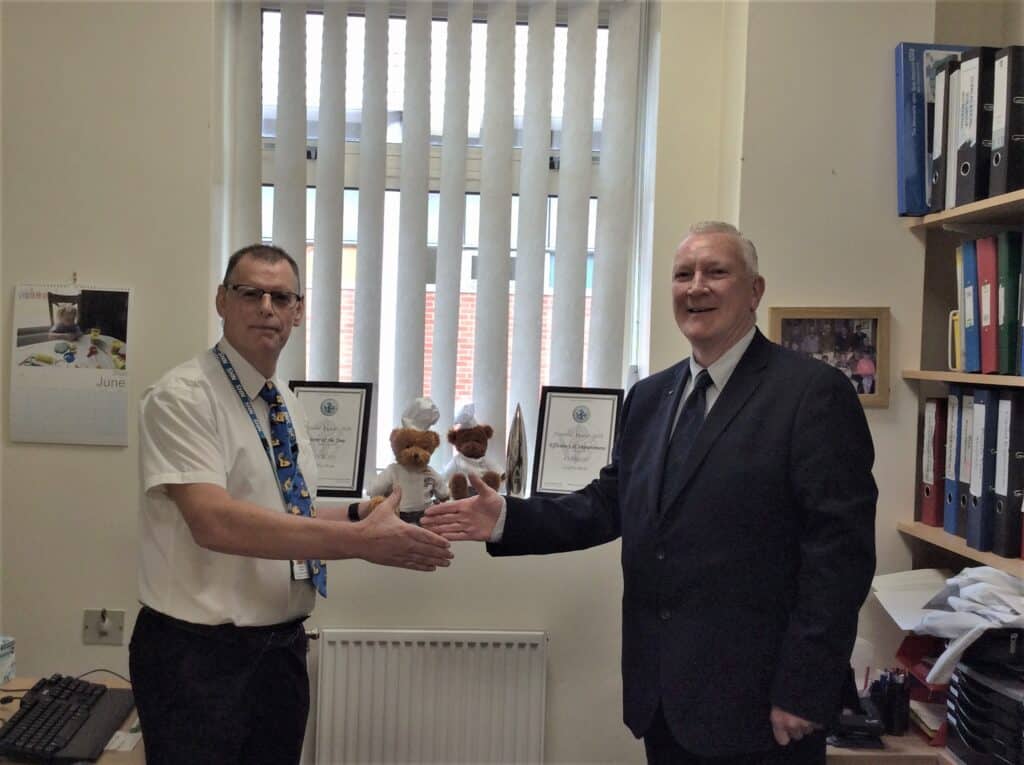 A virtual handshake with Geoff Moyle (left), pictured with a commemorative "Chef Riebear" and BGL Rieber Regional Director Steve Scragg.
Continues Geoff Moyle, "We wanted to maintain our level of service for patients and supply freshly cooked meals from the kitchen at Freeman Hospital. Having a cook-fresh system there allows us the flexibility to scale up and add extra meals as required.
"We used to deliver meals to another hospital locally, so it made perfect sense to use the same system again, including using insulated, no spill food transport boxes."
Freeman Hospital's cook-fresh kitchen is equipped with one of the latest Rieber patient feeding meal assembly belts, plus two Metos Proveno 150 litre 3G combi cooking kettles, also supplied by BGL Rieber, which provide flexible and versatile food production capability.