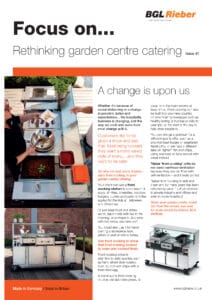 Whether it's because of social distancing or a change in people's tastes and expectations… the hospitality business is changing, and the way we cook and serve food must change with it.
BGL Rieber has produced an informative newsletter for operators of garden centres and nurseries who want to take their catering operation 'out front', making it more visible and interactive with equipment that supports theatre-style front cooking.
Whatever you call it — open kitchen, live theatre, theatre-cooking, cooking bars, food counter or 'table of delights' — cooking in front of the customer is good for business!
Read more here: