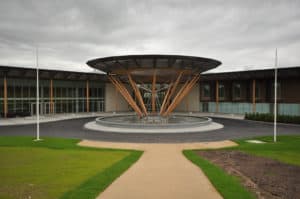 Rieber's Varithek front cooking units were specified by foodservice consultants Humble Arnold Associates for the Hilton at St George's Park, Burton upon Trent, adjacent to the home of English football development, featuring a world-class training facility and a national centre for sports medicine and science.
Set in the National Forest, in 330 acres of landscaped parkland, the centre will be the training base for the 24 England football teams.
The £1m installation of new kitchen facilities included the kitchen and servery within the main FA sports science building, as well as five dedicated kitchens serving the Hilton and Hampton by Hilton hotels, both of which are located within the site.
Hilton has also opened The Hilton London Wembley adjacent to Wembley Stadium and the forthcoming London Designer Outlet. With a Great British theme at its heart, it features furniture and exclusive artwork by British artists and designers throughout. But the front cooking is German-made Varithek!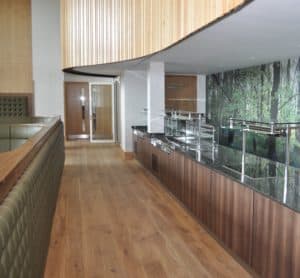 Executive chef is Phillip Clarke at the £70 million hotel: "It's the first time I have used the Varithek for front cooking. We use the induction griddle for breakfast omelettes and fried eggs; poached eggs we do in a saucepan on the hob. For carvery service, it sits alongside the roast to serve gravy or sauces. We have also run barbecues from it, cooking kebabs and we also use it for stir fries. The hotel has been busy ever since opening; the customers like it and the interaction with the chefs. I like it because it saves running in and out of the back kitchen all the time!"
Kitchen design by Andrew Humble FCSI