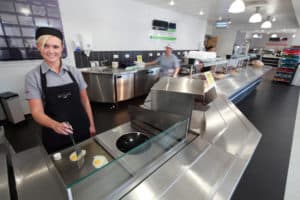 Rieber's Varithek self-ventilating front cooking system at the Princess of Wales Hospital Bridgend is "going really well" reports Catering Services Manager, Michael Jefferies.
"The staff have really bought into using Varithek and enjoy cooking in front of their customers.
"We use the Varithek for cooking either stir fries, chicken dishes, burgers and noodles at lunchtimes. Frying eggs in the morning is also going down a storm!
"When we have a carvery with gammon, we also fry eggs on the Varithek and that is also very popular. It is a fabulous piece of kit."
Pictured, Lisa Gardener, frying eggs at Princess of Wales Hospital, Bridgend.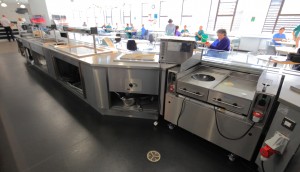 The hospital's recent restaurant refurbishment included adding a smart new café with barista coffee, grab and go sandwiches, ready-made salads, cakes and snacks. A new servery features Rieber's ACS Varithek twin module front cooking unit at one end of the counter, along with bains marie, ceran hotplates and refrigeration.
The restaurant alone serves 400-500 meals daily to a mixed audience including visitors, medical staff and university graduates on training.
Continued Jefferies: "We wanted to improve the food offer daily by introducing themed menus and theatre cooking from breakfast to closing. The self-ventilation is a bonus because we won't need dedicated extraction."
Find out more about Front Cooking here.