New innovations from BGL Rieber for the HCA conference 2016 include Thermoport Midi-K food transport boxes featuring integral heating.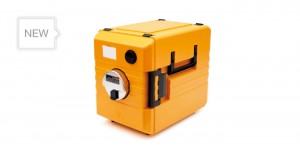 Also new is the Varithek ACS single module front cooking station (see latest hospital newsletter) with induction or ceran hob and built-in ventilation, plus new GN containers and Bulk and Regen trolleys for meal service distribution.
Also new for 2016 are new bratt pans and cooking kettles, plus the Rieber Quad conveyor, driven by 4 tensioned belts, ideal for meal make up or in the dishwash and reported to offer quieter operation and easier cleaning.
MORE DETAILED INFORMATION
NEW FOR 2016
Thermoport Midi-K Range featuring integral heating that helps hold food up to +85degC in each of the stackable boxes. Ideal for transporting hot food to satellite kitchens from a central hub or as a fixed hot holding unit. The Thermoport Midi-K has a combined fill volume of approximately 104 litres and is available as a top or front loader, heated or unheated.
Varithek ACS single module front cooking station, induction or ceran hob with built-in Ventilation; ideal for servery counters for everything from eggs and bacon to omelettes and burgers; also ideal for installation in new servery counters, especially where ventilation or space is limited. Ventilation parts can be cleaned in the dishwasher!
Norm food transport trolleys deliver food from the main kitchen to the ward. Rieber's Norm trolleys are very robust with large wheels 200mm diameter, which helps transport over rough ground and ensure the food is not shaken around too much. Capacity is 3 x 1/1 GN.
Rieber delivers creative solutions for professional caterers. Find out more at: www.bglrieber.co.uk