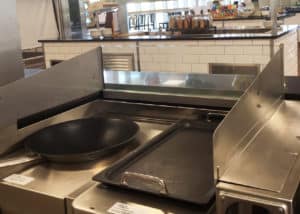 A Varithek acs® 1100 d3 front cooking station with variable digital controlled Ozone self-ventilation is the centre-piece of a new staff feeding servery within a UK motor manufacturer.
This twin module Varithek is supplied with induction wok and induction hob modules, a combination that is ideal for breakfast service of bacon, eggs and omelettes in this staff catering environment.
Using Thermoplate GN griddle pans and Varithek ACS offers more versatility than a fixed griddle, allowing for cooking and serving points to be set up quickly in any suitable location. The system can still be used as a conventional fixed griddle pan.
Lunch, dinner or event catering services are only limited by the imagination and can include griddled fish or meats, burgers, omelettes, kebabs, stir fries, curries and pasta.
Rieber's Griddle options include a traditional griddle plate for hot dogs, burgers or fried eggs, but there is also a non-stick Teppanyaki griddle pan, which works with Rieber's Varithek induction hob to offer more sensitive cooking of delicate items such as tuna.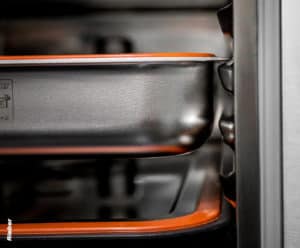 Deeper Thermoplate griddle pans are better for retaining items which need stirring, such as beans, sausages or tomatoes.
Ideal for servery counters or as a mobile unit catering for functions or events, the Varithek acs® 1100 d3 front cooking station features the option of an ozone air filtration upgrade which can be precisely controlled using a variable digital control fan.
Ozone eliminates cooking smells, improving on the original Varithek ACS air cleaning system. Front cooking using mobile, self-ventilating griddle stations brings the kitchen in front of the customer for a truly unique experience.
VARITHEK FRONT COOKING: MODEL: ACS 1100d3