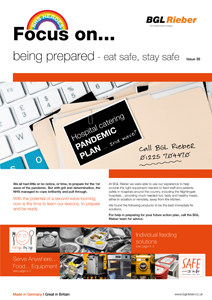 When our customers called us at the start of the virus pandemic for advice on food transport and serving to people remotely or in isolation, we suggested a range of Rieber products to be the best immediate solution.
They are tough, hygienic and easy for staff to use and keep clean.
With the potential of a second wave looming, now is the time to learn our lessons, to prepare and be ready.
So we have compiled an 8-page newsletter outlining all the options for individual meal solutions, transporting bulk food and serving fresh meals anywhere.
Eat safe, stay safe.
Click on the image to download the PDF.