Feeding staff when the main kitchen is shut – or unsuitable due to social distancing – is an increasing problem for caterers.
One solution which provides a hot meal outside of the staff restaurant is the individual Rieber Thermoport insulated food transport box.
These will keep food chilled or hot for more than four hours. Meals can be prepared in the main kitchen and boxed up ready for collection when the workers arrive for their night shift.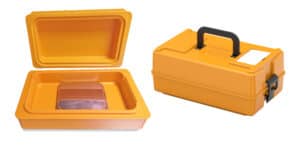 Meals can be prepared and loaded using Rieber's heat retaining metal inserts, which are ideal for bulk hot meal preparation. Alternatively, the caterer can use foil containers making sure they are tightly packed to retain heat.
The Thermoport 10D has a 1/3 GN capacity or around 2.6 litres, is ideal for foil containers and has its own handle, so is easily carried.
Optional hot or cooling pellets are available to boost temperature controls.
"Some foods retain heat better than others," says BGL Rieber MD Gareth Newton, "and caterers can create a wide and varied menu selection that will perform well when transported.
"The boxes are used by the education, healthcare, policing and armed forces worldwide. They are proven to be robust, hold their heat, wash in the dishwasher and are stackable to ease handling."
Contact us for more details and see here for more product information.
PROVIDE HOT TASTY FOOD AWAY FROM THE KITCHEN