On many hospital wards, breakfast is a simple, uncooked meal, but can a dedicated breakfast trolley be used to wide choice or improve service?
Times are changing and upgrading the service raises the question of options!
Options are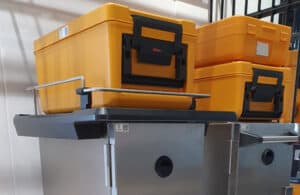 what is needed to widen choice or improve service…do you actually need a large, all-purpose trolley serving a full hot breakfast, or perhaps, the same size trolley, but delivering more of a choice?
A trolley-delivered service – using the latest generation of insulated (Thermoport) food transport boxes – can now feature the largest choice ever of hot and cold menus. Some patients might prefer hot pastries and cold, chilled juice. Or would the option of serving hot bacon or plant-based rolls, porridge or scrambled egg & toast, be better received and more achievable within budget? All this and more can be achieved using just stackable insulated transport boxes.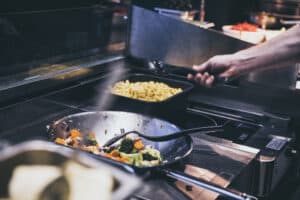 Some hospitals also create their own fresh scrambled eggs or omelettes at ward level using self-ventilating front cooking systems – the self-ventilation is key to satisfying the building safety officer.
People like us have been designing and specifying food delivery systems for 30 years and more. There is a whole host of expertise out here and, with technology like skype or zoom and the ability to video call from the smart phone, the options can be discussed and explored easier than ever!
Click for more information on our range of trolleys and front cooking solutions