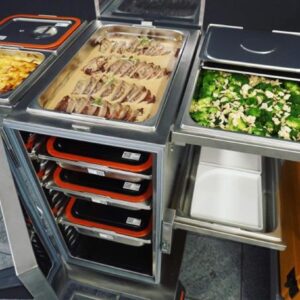 Ideal capacity meal transport and serving solution for UK schools.
With a capacity of 15-50 meals, the Rieber Thermoport CLASSROOM canteen is the ideal Covid-secure lunch serving solution for schools.
Available as a convection-heated front loader, the Thermoport Canteen can serve hot lunches prepared as usual in the main school kitchen and then transported to classrooms. Thermal insulation ensures food remains hot for the short journey.
Alternatively, the school can use ready-prepared chilled or frozen meals because either can be regenerated and safely served in Rieber thermoport food transport trolleys. Cold foods such as sandwiches and salads can be transported safely on top of the Classroom canteen using Rieber's orange thermoport boxes.
The design is based on Rieber's tried and tested Thermoport food transport solutions – proven in schools across the UK and Europe. Trolleys can be pre-heated in the main kitchen and once filled with meals and plates, they can be wheeled to classrooms and plugged in again to maintain serving temperature.
Trolleys can be customised to the school with attractive adhesive panels and there is a foldable sneeze guard available on request. The serving height of 963 mm means children get a good view of the goodies on offer, but also ensures the trolley has enough capacity to feed up to 50 meals from one fill.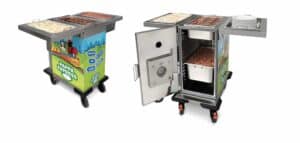 See the brochure HERE
Advantages at a glance:
Made of rustproof high-quality, hygienic stainless steel
Double-walled body, excellent insulation properties
Interior tightly welded with seamlessly deep-drawn support rails
Foldable frames for insertion of GN pans for optimal meal presentation and serving or containers for additional storage space
Side holder for easy stowage of the lid during meal serving
Quick and easy cleaning thanks to removable door seal/heating element
Many functions in one device: transport, regeneration, keeping hot, meal presentation and serving