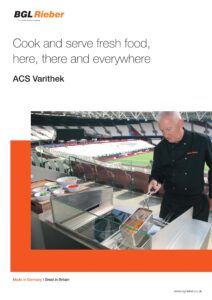 ACS Varithek allows caterers to create kitchens wherever they choose.
The ACS Varithek brochure from BGL Rieber shows the front and theatre cooking capability of this self-ventilating and now optionally fire-supressed cooking station.
Key advantages are that you can turn unused space into a kitchen and servery; and that the chefs are out front interacting with the customers.
No catering distributor, event or hospitality manager should be without the new ACS Varithek brochure…the only question is "how many Varitheks do you need?"
Click here or on the image to download and read.