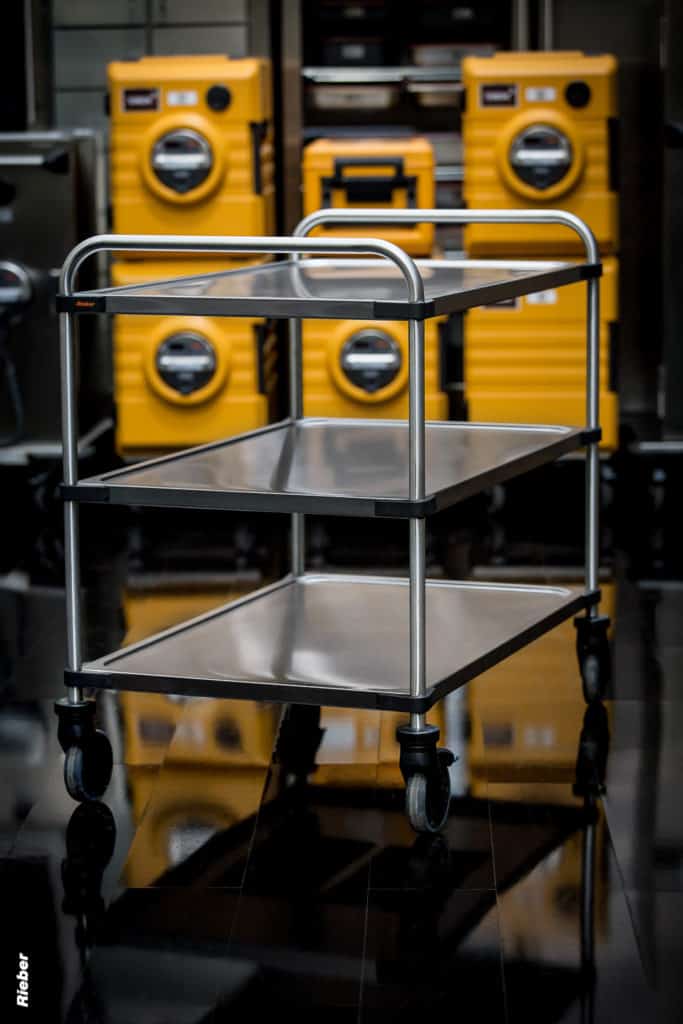 GP Trolleys are used throughout the catering industry.
Anyone who has experience of hotels, hospitals, event catering or industrial catering knows the sound of an approaching GP trolley, especially if it has crockery on top.
Order a room service meal and you hear them before you can see them!
Everyone benefits if they are made QUIETER!
Rieber has launched a Noise Reduced general-purpose GP Trolley with foamed PUR castors, cushioned wheels that reduce noise and absorb shocks.
PUR foam wheels also have excellent rolling resistance and load-bearing capability.
Rieber GP trolleys are 'screw-constructed', which offers improved (metal to sound dampened bracket) sound-proofing compared to standard welded or bolted trolleys with hard wheels.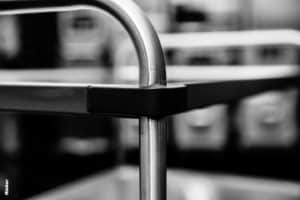 Screwed construction rather than welding makes them tougher than normal and they last longer in destruction tests than traditional welded trolleys.
Rieber is taking advantage of one of today's most effective sound insulation materials. Polyurethane PUR foam creates a wheel that is just as tough as metal or rubber but absorbs sound and vibration.
Rieber GP Trolleys are available in two and three-tier format and in standard and 'Jumbo' versions.
Jumbo GP Trolleys have a load limit up to 220 kg.
Two Shelf GP Trolleys have a load limit of 120 kg; three shelf versions 150 kg.
GP Dimensions: 800×500 mm, 1000×500 mm, 1000×600 mm. Serving trolley is made of stainless steel, tubular pushing handle, deep-drawn shelves with raised edge, sound-deadened, screwed construction. All serving trolleys have corner bumpers on each shelf, deflector casters and 2 swivel casters, 2 swivel casters with brakes.
"GP trolleys are an essential part of the caterer's equipment portfolio. Thousands are in use every day and night, used to deliver everything and anything the business needs," says BGL Rieber MD Gareth Newton.
"The sound difference with the new PUR cushioned wheels is amazing. Imagine walking across a hard floor wearing just your socks, instead of a pair of strong shoes. People will no longer hear the trolleys approaching.
"This is a real benefit for catering staff, the public, customers and patients. The softer cushioned wheels also help protect the trolley contents when moving over rough ground and over pavements and kerbs, which is especially ideal for those working in public services or in buildings with atriums or long corridors such as hotels and hospitals."
Reducing noise in care homes and hospitals at ward level so patients can get good quality rest is a key target for the NHS.
"Noise has been identified as a major concern for care homes and hospitals, with newspaper reports stating our wards are 10 decibels louder than in the 1960s.
"Meal delivery staff and those serving drinks can walk miles every day, travelling from a central kitchen to each ward in turn.
"Hard floors may be hygienic and easy to clean, but they can amplify sound and a noisy trolley with hard wheels on a bumpy surface can be heard from a long distance, especially if it has crockery on top!
"This is not overkill, but a genuine commitment by the manufacturer to delivering the best quality product, that is well suited to serve its purpose."