Rieber Thermoport food transport boxes are famous the world over for their strength, hygiene and ability to hold food at the right temperature for long periods of time.
Plastic Thermoport boxes are very tough but lightweight and are strong enough for use by the armed forces, prisons, meals on wheels, hospitals and schools.
The boxes are insulated, meaning they will keep food hot or cold to your requirements, provided the boxes have been packed properly in the first place. Training and ongoing support is available to BGL Rieber customers.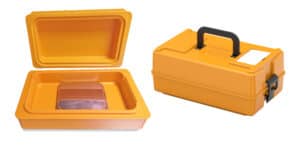 Single and bulk meal delivery boxes for take away and delivered meals:
Thermoport 10D is our recommended transport box for single meals or a shared meal for 2 people. The 10D box has a 1/3 GN capacity or around 2.6 litres, is ideal for foil containers and has its own handle, so is easily carried.
The recommended delivery box for carrying multiple meals in foils is the front loading Thermoport 230. It has optional hot or cooling pellets to maintain temperature for longer deliveries. Capacity is 26 litres, and a sturdy carry handle makes it ideal for handling stairs and lifts.
The Thermoport 100 has 26 litre capacity but is better suited to meals delivered in carrier bags. A top loader with optional hot or cooling pellets, the box can be split into sections to keep meals separate or to stop them moving about using an insulated divider.
There are many other shapes and sizes of Thermoport boxes to choose from including heated models that can work off the electrics of a small van or car.
Please ask for advice and find more information on Thermoport here.